As a devoted cat lover, I've often found myself wondering what my feline friend gets up to when I'm not around. Like a stealthy ninja, cats have a mysterious way of exploring their world, leaving us humans with a burning curiosity. That's where cat collar cameras come into play. These tiny devices have become a popular way to tap into our cats' secret lives and see the world through their eyes.
In this ultimate guide, we'll explore the fascinating world of cat collar cameras. We'll discuss their benefits, important factors to consider when choosing one, and the only two models worth considering in 2023. So, grab a cup of coffee, snuggle up with your favorite furball, and join me on this journey into the hidden lives of our whiskered companions.
This guide's recommendations result from our expert team's thorough research, including user reviews, product specifications, and firsthand experiences. This rigorous process guarantees our reviews' authenticity, guiding you to make informed decisions. Our reviews remain unbiased and credible; however, please note that we may earn an affiliate commission for purchases made through our links.
---
The Best Cat Collar Cameras of 2023 Compared
Navigating the world of pet tech can be overwhelming, especially when it comes to cat collar cameras. However, we've got you covered, cat enthusiasts! After extensive research and analysis, we've found that many products on the market don't quite live up to expectations and aren't worth the investment. But fear not, we've carefully sifted through the options and narrowed down the vast array of choices to just two exceptional models, ensuring top quality and reliability. So, rest easy and let us guide you through the best cat collar cameras of 2023 for a purr-fectly informed decision.
COLLAR CAMERA
BRAND
DIMENSIONS
WEIGHT
FEATURES
PRICE*
Insta360 GO 2
2.08″ L
0.93″ W
0.81″ H

0.9 Ounces
1440p
Lightweight
Waterproof
$$$
CollarCam
1 " L
1 " W
1 "H
0.4 Ounces
1080p HD
Lightweight
Night Vision
Motion detection
$
* $ (budget-friendly, $0-$100), $$ (mid-range, $100-$200), and $$$ (higher-end, $200-$300+).
1. Insta360 GO 2: The Purr-fect Cat Collar Camera
Discovering the world through your cat's eyes has never been easier with the Insta360 GO 2. This small, versatile camera can be transformed into the ultimate cat collar camera, allowing you to capture your cat's adventures from a unique perspective. While not specifically designed as a pet camera, the lightweight and compact nature of the Insta360 GO 2 makes it an excellent choice for capturing your cat's escapades. However, it is worth mentioning that it is a more expensive option if your primary use is for your cat.
The camera's magnetic in-the-box accessories and adjustable sports camera expansion straps make it simple to mount the Insta360 GO 2 on your cat's collar. For added convenience, a silicone case with adjustable straps can be purchased separately. The lightweight design ensures that your cat remains comfortable while wearing the camera. Plus, its waterproof and durable construction can handle the unpredictable nature of a cat's outdoor activities, providing you with peace of mind.
The Insta360 GO 2 boasts a range of features that make it an excellent choice for a cat collar camera. With a 1440p video resolution, image stabilization, and night vision capabilities, you can capture high-quality footage of your cat's adventures. The camera's storage capacity allows you to record ample footage, while compatibility with smartphones and other devices ensures you can easily access and share your cat's captured moments.
The Insta360 app offers creative editing options, allowing you to transform your cat's footage into engaging stories. The AI-powered auto-editing feature takes your footage to the next level, syncing clips to music and creating a polished final product.
However, the Insta360 GO 2 does have its limitations. Some users have reported connectivity issues and a somewhat shorter battery life than expected. Despite these drawbacks, the camera's performance, convenience, and adaptability for use as a cat collar camera outweigh the downsides.
Detailed features and specifications:
Camera resolution and stabilization:
Crisp 1440p video at 50fps or 30fps, FlowState Stabilization, and horizon leveling algorithms
Weight and dimensions:
Weighs just 1 oz, measures 2.08 x 0.93 x 0.81 inches
Durability and water resistance:
Waterproof up to 13ft (4m), rugged design
Battery life and charging options:
30 minutes standalone or up to 150 minutes with charge case
Night vision capabilities:
No night vision, but low light capabilities
Storage capacity and file format:
32GB internal storage
Compatibility with smartphones and other devices:
WiFi preview and remote control via the Insta360 app on iOS and android
| Pros | Cons |
| --- | --- |
| Lightweight and versatile | Short battery life |
| Excellent video quality and stabilization | Not specifically designed as a pet camera |
| Waterproof without needing a case | Higher price point |
| Wide range of creative features | |
| Multi-use charge case | |
Price information:
The Insta360 GO 2 retails for around $300, making it the most expensive option in our selection. However, its high-quality features and versatile design make it a worthwhile investment for those seeking the best cat collar camera.
Real-Life User Reviews and Testimonials:
Many users praise the Insta360 GO 2 for its portability, video quality, and ease of use. Some users have successfully used it as a cat collar camera by attaching it with the included magnet pendant, easy clip, or the multifunctional sports camera expansion strap.
However, some users are frustrated with short battery life and occasional connectivity issues. Despite these concerns, the overall consensus is that the Insta360 GO 2 offers excellent performance and versatility for its size, making it a top contender for the best cat collar camera.
Conclusion: the Insta360 GO 2 is a fantastic choice for pet owners who want to explore their cat's world and document their furry friend's escapades. Its unique blend of features, versatility, and convenience make it an excellent choice for capturing the world through your cat's eyes. By choosing the Insta360 GO 2 as your cat collar camera, you'll open up a whole new perspective on your pet's life and create unforgettable memories that will last a lifetime.
---
2. CollarCam: A Cat's Eye View of the World
For those of us with furry friends, the age-old question remains: What does my cat get up to during their mysterious outings? The CollarCam offers a front-row seat to these hidden escapades, revealing a world only your pet knew — until now. Compact, lightweight, and tailored for felines and smaller canines, it's the must-have device for every curious pet owner.
Prominent in its feature set is the CollarCam's 1080p video quality. Say goodbye to hazy, unclear visuals; with this device, every adventure, chase, and moment of relaxation is captured with striking clarity. Such precision is particularly commendable when you consider the dynamic activities of pets, with swift and unpredictable movements being the norm.
A highlight for the CollarCam is its ingenious integration of motion detection. Not only does this feature ensure you capture the heart of the action, but it also aids in preserving battery life and storage, recording only when your pet is on the move. And with the evening being prime time for some of our nocturnal pals, the infrared night vision of the camera ensures no part of their journey remains hidden, no matter how dimly lit.
Considering its capabilities, one might expect a bulky apparatus. However, the CollarCam impresses again with its petite frame, ensuring pets remain undisturbed and unburdened. Such a design, combined with its robust build and bonus waterproof casing, ensures the device stands up to even the most spirited adventures.
Further sweetening the deal, the CollarCam offers significant storage capabilities, with potential expansion options. When weighed against other pricier models in the market, which often come with a baggage of mixed reviews and issues, the value proposition of the CollarCam becomes clear. It's more than just a camera; it's a window into your pet's world.
Detailed features and specifications:
Camera resolution and stabilization:
High Definition 1080p video, ensuring every detail is captured.
Weight and dimensions:
Less than 1″ (2.5cm) wide and deep, weighing a mere 0.4oz.
Durability and water resistance:
Comes with a free transparent waterproof case that ensures safety up to 98ft (30m).
Battery life and charging options:
Charging time is only 2-3 hours, and the 200mAH battery provides up to 60 minutes of continuous recording, which can be extended with motion sensor mode.
Night vision capabilities:
Built-in infrared lens offers clear camera quality in low light for up to 26ft (8m).
Storage capacity and file format:
Comes with a free 32GB memory card, storing videos in AVI format.
Compatibility with smartphones and other devices:
Videos can be accessed via USB or SD Card Adapter.
| Pros | Cons |
| --- | --- |
| Lightweight and compact design | Limited to 60 minutes of continuous recording without motion detection. |
| HD 1080p video with clear audio | Requires an AVI player for Macbook users. |
| Night vision capability up to 26ft | |
| Motion detection conserves battery and storage | |
| Robust and waterproof | |
| Affordable price | |
Price and Subscription Information:
The CollarCam offers exceptional value for its price, especially when you consider the quality and the freebies like the 32GB memory card, adapter, and waterproof case.
Real-Life User Reviews and Testimonials:
The CollarCam has been widely praised for its HD clarity, lightweight design, and night vision feature. Many users love how unobtrusive it is, ensuring authentic footage as their pets go about their day. While its 60-minute continuous recording and the need for an AVI player for MacBook users are occasional concerns, the general sentiment is overwhelmingly positive, with many highlighting the joy of discovering their pets' hidden adventures.
Conclusion: The CollarCam offers a unique and entertaining perspective into your pet's world. Designed keeping our feline friends in mind, it's compact, durable, and packed with features like motion detection and night vision. If you've ever been curious about your cat's secret life, the CollarCam is the key to unlocking those mysteries. An invaluable tool for pet lovers everywhere, it's a front-row seat to their most delightful and surprising adventures. Don't just wonder about their escapades; see it for yourself with the CollarCam!
---
Buyers Guide: Factors to Consider When Choosing a Cat Collar Camera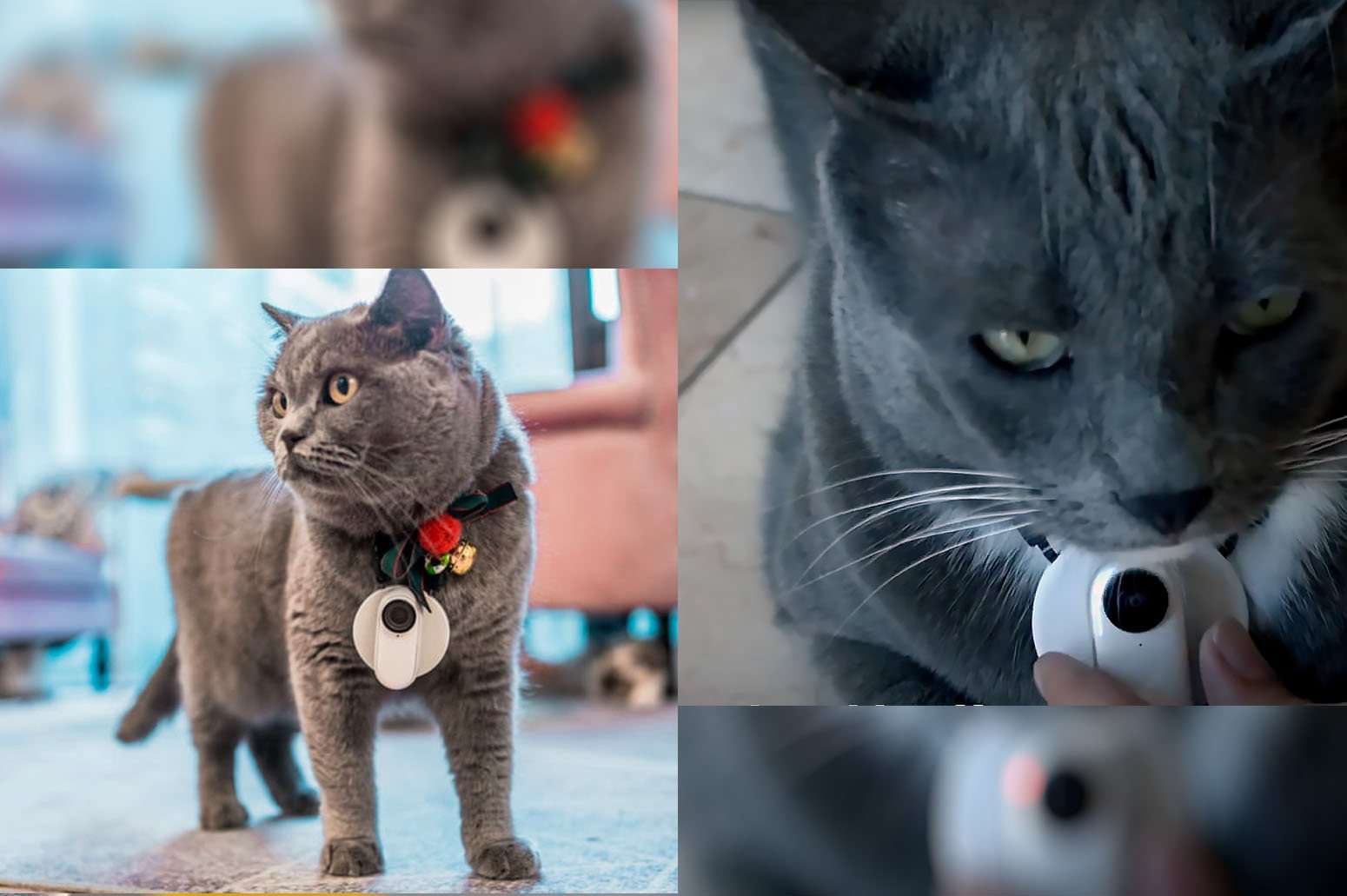 When it comes to choosing the purr-fect cat collar camera, there are several factors you'll want to keep in mind. After all, you want to ensure that the camera you select is both comfortable for your cat and captures high-quality footage of their adventures.
Weight and dimensions
Cats are notorious for their agility and grace, so it's important to choose a camera that won't weigh them down or restrict their movements. Look for lightweight models that won't be a burden on your cat's collar or harness. Ideally, the camera should be small enough that your cat hardly even notices it's there. One time, I tried attaching a regular action camera to my cat's harness, and let's just say it didn't end well – poor Bella waddled around like a hunchbacked turtle!
Durability
Cats can get into some pretty tight spots and may not always be gentle with their belongings. That's why it's crucial to pick a camera that can withstand the rough-and-tumble lifestyle of a curious feline. Look for models with sturdy construction, water resistance, and shockproof features to ensure the camera can survive whatever misadventures your cat encounters.
Picture quality and stabilization
To truly appreciate your cat's escapades, you'll want a camera with excellent picture quality. High-resolution cameras (1080p or higher) will capture crisp, clear images that let you see every whisker and paw in detail. Additionally, a camera with image stabilization will help reduce shaky, blurry footage – because let's face it, cats aren't exactly known for holding still.
Battery life
There's nothing more disappointing than missing out on your cat's best moments because the camera's battery died. That's why battery life is an essential factor to consider when selecting a cat collar camera. Look for models with at least one hour of battery life so you can enjoy uninterrupted footage of your cat's escapades.
Ease of use
As much as we'd love to spend all day fiddling with gadgets, most of us have busy lives and limited time. That's why it's important to choose a camera that's user-friendly and easy to set up. Look for models with intuitive controls, straightforward software, and simple attachment mechanisms that make it a breeze to get started.
Additional features (night vision, GPS, live streaming)
Last but not least, consider any extra features that might enhance your cat collar camera experience. For example, night vision capabilities can help you capture your cat's nocturnal adventures in stunning detail. While GPS tracking and live streaming options are not currently available, they could potentially be incorporated in future models, providing even more value to pet owners. The addition of GPS would offer peace of mind by allowing you to locate your cat at any time, while live streaming capabilities would let you watch your cat's antics in real-time, making you feel like you're right there with them. Keep an eye on future developments in cat collar camera technology, as these features could revolutionize the way we interact with our feline friends.
With these factors in mind, you'll be well on your way to choosing the ideal cat collar camera that meets your needs and keeps your feline friend comfortable and happy.
---
Tips for Ensuring Your Cat's Safety with a Cat Collar Camera
Using cat collar cameras can provide a unique insight into your cat's world and create entertaining POV videos of their adventures. However, it's essential to acknowledge the current limitations of this technology and prioritize your cat's safety. Here are some tips for ensuring your cat's safety and comfort while using a cat collar camera:
Choose the right collar and camera size: Make sure the collar and camera are the appropriate size and weight for your cat. Opt for a lightweight and compact camera designed specifically for cats to minimize any potential issues.
Check for a breakaway or quick-release collar: To prevent accidents or injuries, choose a collar with a breakaway or quick-release mechanism. This feature allows the collar to detach if it gets caught on something, ensuring your cat's safety.
Test your cat's comfort level: Introduce the collar and camera gradually to your cat, allowing them to get used to each component separately. Monitor your cat's behavior and ensure they are comfortable and not distressed by the camera.
Regularly check the collar fit: Ensure the collar is not too tight or too loose around your cat's neck. Regularly check the collar's fit and adjust it as needed to ensure your cat's safety and comfort.
Inspect the camera and collar for wear and tear: Periodically examine the camera and collar for any signs of damage or wear that may compromise their functionality or safety. Replace any damaged components promptly to avoid potential accidents or injuries.
Limit the recording duration: Avoid recording your cat's activities for extended periods, as this can be invasive and stress-inducing. Limit the recording duration to specific times or events, like playtime or outdoor exploration, within a controlled environment.
Prioritize indoor or backyard use: Until advanced features like GPS tracking and live streaming become available, consider using the camera primarily for indoor cats or within a secure outdoor area under your supervision.
Create a safe environment: Remove potential hazards in your cat's environment that could cause the camera or collar to get caught or damaged.
Review footage responsibly: While it's fascinating to see the world from your cat's perspective, it's essential to respect their privacy. Avoid sharing sensitive or potentially embarrassing footage of your cat without their "consent" – remember, they are members of your family too!
By acknowledging the limitations of current cat collar cameras and taking necessary precautions, you can create captivating content featuring your cat's POV adventures while ensuring their safety and well-being.
---
The Evolution of Cat Collar Cameras
The world of pet accessories has seen remarkable advancements in recent years, and cat collar cameras are no exception. These tiny devices have come a long way since their inception, allowing pet owners to gain unique insights into their feline friends' lives. In this section, we will explore the fascinating journey of cat collar cameras, from their humble beginnings to the cutting-edge technology they boast today, and take a glimpse into the future possibilities for these innovative gadgets.
Brief History of Cat Collar Cameras
The concept of cat collar cameras emerged alongside the rise in popularity of action cameras like GoPro. As pet owners became increasingly curious about their pets' daily activities, the idea of adapting action camera technology for a cat's point of view (POV) became an attractive prospect. The first cat collar cameras were relatively simple, offering basic video capabilities and limited battery life. However, as technology progressed, so too did the features and capabilities of these mini, lightweight cameras.
Advancements in Technology
Over the years, cat collar cameras have benefited from significant technological advancements. The evolution of camera sensors has enabled manufacturers to offer higher resolutions, resulting in crystal-clear footage even when the cat is on the move. Battery life has also improved, thanks to innovations in lithium-ion batteries and motion detection technology. Some cat collar cameras now feature night vision capabilities, allowing pet owners to explore their cat's nocturnal activities. These developments have made cat collar cameras more versatile and user-friendly, catering to the growing demands of pet owners.
Current Trends
Cat collar cameras have made significant strides in balancing image quality, battery life, and features while maintaining a compact size. Some devices like the Insta360 GO 2 now offer resolutions up to 1440p for detailed footage. However, trade-offs are inevitable as manufacturers aim for the perfect balance. To extend battery life, cameras employ energy-efficient components and motion detection technology. Although there are limitations in these tiny devices, pet owners can still enjoy a fascinating POV into their cat's world.
Cat collar cameras have gained immense popularity as they offer an intriguing glimpse into the secret lives of our feline friends. Cats like Gonzo and Mr. Kitters have shot to internet fame as "catfluencers" with their Insta360 GO 2 cat collar camera footage, attracting thousands of followers on Instagram and TikTok. These cameras capture their exciting encounters with other cats, wildlife, and even showcase their adorable quirks. The Daily Mail's article dives into the details of these cat celebrities and their remarkable adventures. For more insights into their lives, you can also check out this New York Times article. With wearable camera technology such as the Insta360 GO 2 on the rise, cat lovers can now enjoy a unique and up-close perspective on their favorite feline stars.
Future Possibilities
The future of cat collar cameras is full of exciting possibilities. As camera technology continues to improve, we can expect even higher resolutions, better image stabilization, and longer battery life. Artificial intelligence and machine learning may play a role in helping pet owners analyze their cat's behavior, offering suggestions for improved health and well-being. Furthermore, the integration of GPS technology could help pet owners track their cat's location in real-time, providing added peace of mind.
Ultimately, the ongoing evolution of cat collar cameras promises to bring pet owners closer to their feline companions, fostering a deeper understanding of their lives and enhancing the bond between humans and their pets.
---
Conclusion
In conclusion, cat collar cameras have revolutionized the way pet owners can connect with and understand their feline companions. These innovative devices offer a unique glimpse into the daily adventures and perspectives of our beloved cats, allowing us to appreciate their world in a whole new light. With advancements in technology, camera quality, and user-friendly features, today's cat collar cameras provide an unparalleled experience for both pets and their owners. By carefully considering the available options and selecting a high-quality, feature-rich camera, you can embark on a fascinating journey with your furry friend, capturing unforgettable moments and gaining invaluable insights into their lives.
Frequently Asked Questions About Cat Collar Cameras
Can I put a camera on my cat's collar?
Yes, you can put a camera on your cat's collar, as long as it's lightweight and specifically designed for pets. Make sure the camera is comfortable for your cat and doesn't hinder their movement or cause any distress.
What is the best action camera for cats?
The best action camera for cats is one that is lightweight, compact, and easy to attach to a collar or harness. Features like image stabilization, good battery life, and high-quality images and videos are also essential. The top cat collar cameras mentioned in this article are excellent options to consider.
Can you put a GoPro on your cat?
While GoPro cameras are popular for capturing action shots, even the smallest GoPro model (HERO11 Black Mini) may be too heavy and large for a cat. Instead, consider using a cat-specific camera, like the ones mentioned in this article, which are designed with your cat's comfort and safety in mind
How do I attach a camera to my cat's collar or harness?
Attaching a camera to your cat's collar or harness typically involves using a secure mount or clip that comes with the camera. Make sure the camera is positioned in a way that doesn't impede your cat's movement or cause discomfort. Always follow the manufacturer's instructions for the best results.
How can I ensure my cat's safety while using a collar camera?
To ensure your cat's safety while using a collar camera, choose a lightweight and comfortable model specifically designed for pets. Check that the camera is securely attached and doesn't cause any irritation or discomfort. Additionally, monitor your cat's behavior to ensure they're comfortable with the camera.
Can a cat collar camera help find my lost cat?
While cat collar cameras currently do not have built-in GPS tracking, they may be helpful in identifying your cat's whereabouts through recorded footage. In the future, we might see cameras with GPS integration, providing a more comprehensive solution for locating lost cats.
How long does the battery last on a cat collar camera?
Battery life for cat collar cameras varies depending on the specific model and usage. Most mini cameras have a battery life ranging from 30 to 60 minutes. However, some collar cameras feature motion detection technology, which powers down the device when no motion is detected, significantly extending the battery life up to eight hours.