Have you ever thought about taking your cat on your next boating adventure, or perhaps a gentle paddle on your SUP (Stand-Up Paddleboard)? Sounds wild, right? But, here's the thing – the world of feline exploration is expanding, and our adventurous, whiskered companions are becoming the perfect co-pilots for our outdoor exploits. But there's one thing every cat adventurer needs before setting their paws on the deck – a reliable cat life jacket.
Remember that time you glanced at your kayak, then at your feline buddy, and thought, "Nah, that's crazy!"? Well, think again. With the right gear, our intrepid furry pals can safely join us in our aquatic journeys. This crucial gear includes a well-fitted cat life vest PFD (Personal Flotation Device).
Whether it's a sail on a boat, a jaunt on a kayak, or a paddleboard session, your cat can safely join you. So, let's delve into the waves of the cat life jacket realm and learn how to ensure your feline's safety during these exciting adventures. Fasten your life jackets, folks. This is going to be one pawsome ride!
The Importance and Role of a Cat Life Jacket
A cat life jacket plays a crucial role in your feline's safety during any aquatic adventure. Cats, in general, are not as comfortable in water as dogs. Their bodies are not naturally designed for swimming, making water safety a paramount concern. That's where a life jacket becomes essential. It ensures that your kitty remains buoyant, preventing exhaustion or panic if they find themselves in water unexpectedly. It also provides them with a sense of security, allowing them to enjoy their water-bound explorations without any fear.
Do Cats Like to Swim?
Contrary to popular belief, not all cats despise water. Some breeds, like the Bengal or Turkish Van, famously enjoy swimming. However, even if your cat isn't a fan of getting their paws wet, it doesn't mean they can't accompany you on your water excursions. With a bit of time and patience, many cats can grow accustomed to the sensation of being on water, especially if they feel safe and secure. That's another reason why a cat life jacket is such a game-changer.
Life Jacket vs. Flotation Device: What's the Difference?
When talking about safety devices for water activities, you might hear the terms "life jacket" and "flotation device" being used interchangeably. However, there's a subtle difference between the two.
A life jacket is designed to turn an unconscious wearer face-up in the water, providing the highest level of buoyancy and safety. A flotation device, or buoyancy aid, is a lighter version that assists with floating but doesn't guarantee a face-up position if the wearer is unconscious. Both can provide safety in the water, but a life jacket offers superior protection. This makes a cat life jacket the preferred choice for our whiskered companions' water adventures.
Should Cats Wear Life Jackets for Water Adventures?
Cats should absolutely wear life jackets on boats, kayaks, or any other watercraft. Even if your cat isn't planning on doing any swimming, accidents can happen. A sudden gust of wind, a swift current, or a momentary lapse in balance could result in an unexpected dip. By ensuring that your cat is always wearing a life jacket while on board, you're providing an essential layer of protection against such incidents.
In essence, a cat life jacket is more than just a safety device; it's a ticket to a world of adventure for you and your feline companion, opening up endless possibilities for shared experiences and bonding.
Top 3 Cat Life Jackets for 2023: Reviews and Recommendations
Selecting the perfect life jacket for your cat can feel like a monumental task. With countless options available on the market, how do you know which one is the best fit for your furry friend? Don't worry, we've got you covered. We've sailed the vast ocean of possibilities and fished out the top five life jackets that offer superior comfort, buoyancy, and safety for your feline. Each of these "purrfect" vests has been selected with meticulous care and thorough research, ensuring that your cat's next aquatic adventure is as safe as it is fun. Up next is our detailed comparison table followed by individual reviews for each life jacket.
BRAND
SiZE RANGE / CAT WEIGHT
MATERIAL
FEATURES
PRICE*
Queenmore
Shark Fin
XS (5-11 lbs)
S (11-22 lbs)
M (22-39 lbs)
Oxford cloth fabric
Polyethylene foam
Shark fin design
D-ring hook
$
Outward Hound Standley Sport
XS (5-15 lbs)
SM (15-30 lbs)
Polyester Ripstop, Mesh
D-ring for leash
Quick-release buckles
$$
Outward Hound Dawson Swim
XS (5-15 lbs)
SM (15-30 lbs)
Polyester, Polyurethane Foam
Quick-release buckles
$$
* $ (budget-friendly, $0-$30), $$ (mid-range, $30-$50).
Taking your feline friend to an aquatic outing doesn't have to mean leaving them on the sidelines. The Queenmore Shark Fin Cat Life Jacket, though primarily marketed for dogs, fits cats splendidly when chosen in X-Small or Small sizes. So, measure your cat correctly before making a purchase. Winning the "Most Fun Design" category, this life jacket brings together a unique sense of style and optimal safety, creating a buzz wherever your cat goes.
Featuring a playful shark fin design, this Cat Life Jacket puts your pet in the spotlight. This eye-catching feature, combined with comfort and mobility considerations, ensures your furry friend feels as good as they look. A fastening system with neck and belly magic stickers and adjustable nylon straps ensures a snug and secure fit, offering unhindered playtime.
Beyond being just cute, this life jacket is serious about safety. The sturdy, anti-slip handle enables prompt rescues, while the reflective detailing makes your cat visible even during low-light conditions.
Detailed features and specifications:
Material and Safety: Made with ripstop oxford cloth fabric and filled with polyethylene foam. Reflective design and a sturdy rescue handle ensure safety.
Comfort and Fit: Fastening system includes magic stickers and adjustable nylon straps for a snug fit. Suitable for cats weighing 5.5 to 25 pounds.
Special Features: Comes with a fun shark fin design and a D-ring hook for leash attachment.
| Pros | Cons |
| --- | --- |
| Unique and playful design | Sizing may vary between different breeds |
| Robust, buoyant material | |
| Enhanced visibility with reflective details | |
| Sturdy rescue handle | |
| Adjustable fit | |
Real-Life User Reviews and Testimonials:
Users adore the Queenmore Shark Fin Cat Life Jacket for its attractive design and practical features. They've noted the ease of use and the helpful rescue handle for swift pet recovery during aquatic activities. The shark fin design has garnered many compliments and smiles.
Conclusion: The Queenmore Shark Fin Cat Life Jacket brings fun and function together, ensuring safety while making your cat the star of any water outing. Remember to measure your pet correctly for the perfect fit. Get ready to turn your cat into the cutest shark around, and let the adventure begin!
---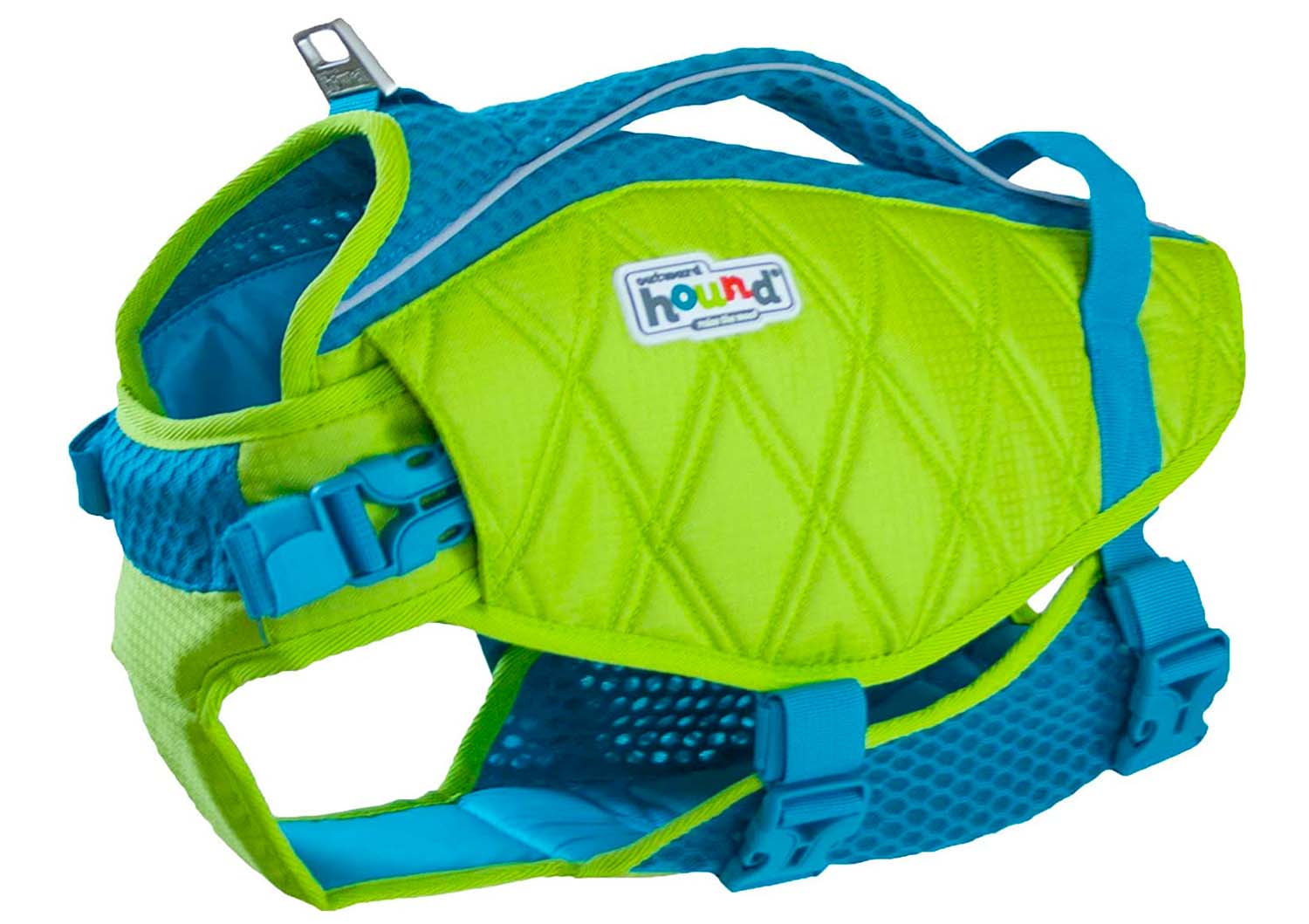 Delving into the realm of lightweight cat life jackets, the Outward Hound Standley Sport Cat Life Jacket in Green confidently sails to the top. Inadvertently a boon for cat owners, its X-Small and Small variants make a snug fit for most feline companions. However, as all cats are uniquely shaped, taking proper measurements beforehand is strongly recommended for a perfect fit.
Built to last, the Standley Sport Life Jacket stands up to the elements with its robust construction using ripstop nylon and quilted polyester. This jacket's striking green hue is paired with reflective accents, enhancing your cat's visibility whether they're in water or on land, keeping them safe and in sight at all times.
This life jacket's key selling point is its blend of comfort and functionality. The material is breathable and integrates a large mesh belly band for fast water drainage, ensuring your kitty stays light and nimble. For optimal swimming, the jacket incorporates a front float chest panel, promoting balanced flotation and letting your feline freely explore the aquatic world.
Detailed features and specifications:
Material and Safety: Made from durable ripstop nylon and quilted polyester. Safety features include a rescue handle, D-ring for leash attachment, and reflective accents for visibility.
Comfort and Fit: The jacket has a breathable mesh belly band and adjustable straps to ensure a comfortable and secure fit.
Ease of Use: The adjustable straps make the jacket easy to put on and remove, while the front float chest panel facilitates easy swimming.
| Pros | Cons |
| --- | --- |
| Durable and lightweight material | Sizing may vary between different cat breeds |
| Enhanced visibility with bright colors and reflective accents | |
| Emergency rescue handle | |
| Adjustable for secure fit | |
Real-Life User Reviews and Testimonials:
Customers appreciate the Outward Hound Standley Sport Cat Life Jacket's fit, which aligns well with the provided sizing chart. They compliment the jacket's durability and appreciate the vibrant colors and easy visibility. However, a few users highlighted that adjusting the straps for smaller cats can leave excess strap material, which might need trimming.
Conclusion: The Outward Hound Standley Sport Cat Life Jacket shines in its category for its lightweight design, comfort features, and high visibility. It brings safety and style to the forefront, ensuring your cat can swim freely and comfortably, always in your sight. Remember, proper measurement is crucial for an optimal fit. With this life jacket, your cat's aquatic adventure is bound to be a splash hit!
---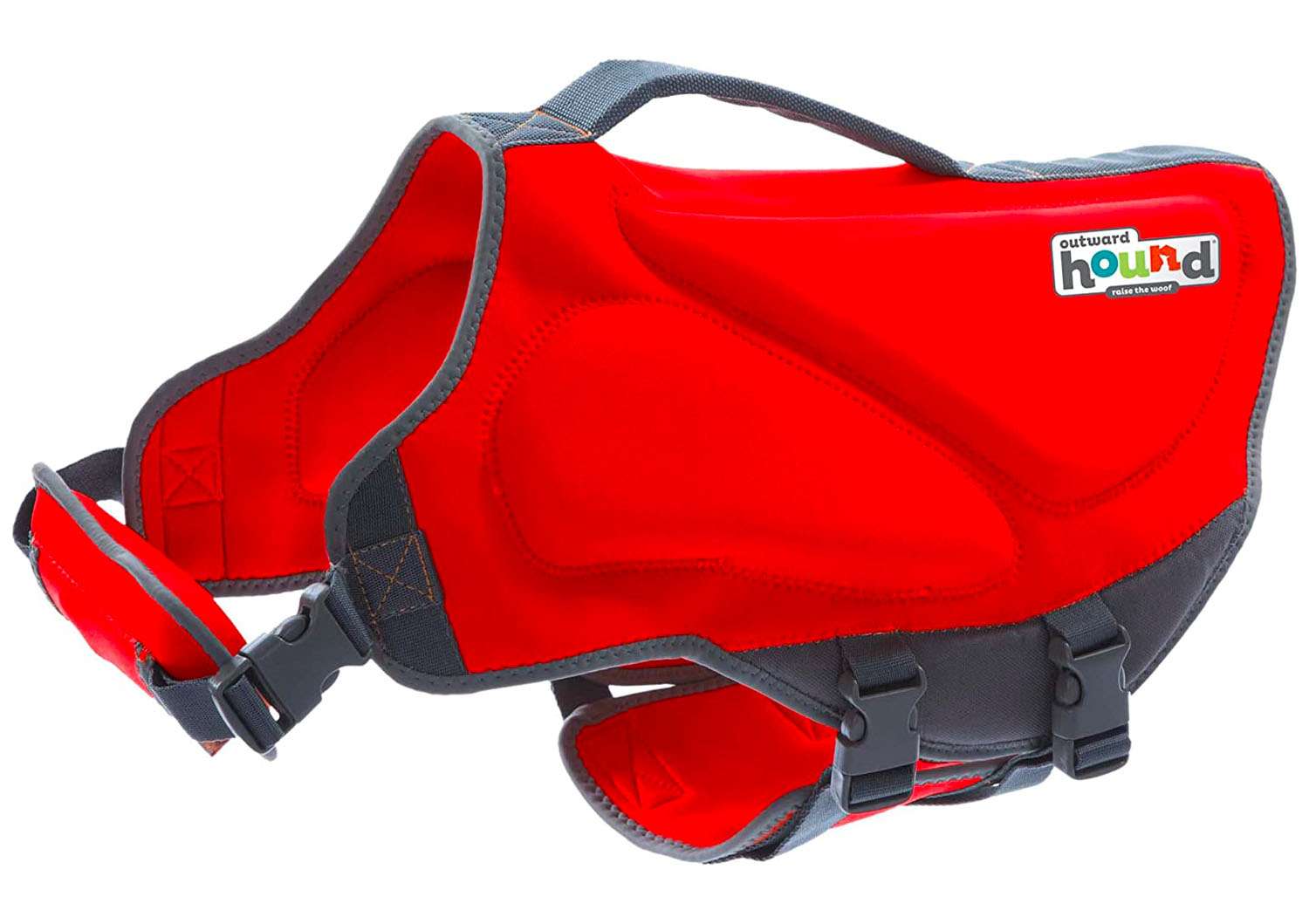 The Outward Hound Dawson Swim Cat Life Jacket really hits the mark in the category of "Best Design Cat Life Jacket." This life jacket brings together an interesting mix of durability, safety, and style, all while being tailored to provide a snug fit for your furry friend. Although primarily marketed for dogs, the X-Small and Small sizes of this life jacket fit most cats perfectly. But remember, the perfect fit is all about the correct measurements.
The materials used in the construction of this life jacket are truly commendable. The high-quality neoprene side panels offer buoyancy in water and also provide thermal insulation. This is a critical feature, particularly when your cat is testing new waters. The bright colors and reflective trim make your cat visible at all times, ensuring safety in the water. The buoyant front float support is another unique feature that helps your kitty keep their head above water.
Additionally, this life jacket also prioritizes convenience. The top grab handle is designed to easily lift your cat out of the water, and also comes handy in case they need rescuing. With adjustable straps, this cat life jacket ensures a secure fit, and the quick-release buckles make it a breeze to put on and take off.
Detailed features and specifications:
Material and Safety Features: Durable neoprene material provides buoyancy and thermal insulation. Reflective trim increases visibility, while the top handle enables easy rescue and the adjustable straps ensure a secure fit.
Comfort and Fit: Comfortable foam panels offer buoyancy without being bulky. The front float chin panel and adjustable straps make it suitable for various cat sizes.
Ease of Use and Special Features: Quick-release buckles make it easy to put on and take off. A unique design feature includes a foam chin panel to help keep the cat's head above water.
| Pros | Cons |
| --- | --- |
| High-quality neoprene side panels | May not fit all cat sizes perfectly |
| Reflective trim for enhanced visibility | Neoprene material may not suit all cats |
| Adjustable straps and top grab handle | |
Real-Life User Reviews and Testimonials:
Customers laud this life jacket's perfect fit, buoyancy, and the ease it brings to swimming lessons for their feline friends. One user highlights how the Dawson Swim Cat Life Jacket is a "water worm's dream jacket," serving both of her cats with different sizes and needs. Another user appreciates the jacket's insulation, noting how it helped their pet learn to swim.
Conclusion: The Outward Hound Dawson Swim Cat Life Jacket confidently navigates the waters of design, safety, and comfort. Its careful consideration of the unique needs of feline friends makes it a standout choice in its category. However, always ensure to measure your cat properly for the perfect fit before diving into this purchase. Happy swimming!
---
What Makes a Great Cat Life Jacket: Key Features to Consider
When it comes to buying a life jacket for your cat, a few key features stand out as must-haves to ensure your cat's safety and comfort. Here, we'll delve into what really makes a cat life jacket worthwhile.
Sizing and Comfort: Ensuring a Perfect Fit
Just like us, our feline companions need a comfortable fit in their life jackets. An ill-fitting life vest can lead to discomfort, restricted movement, or worse, it could even come off in the water. Here's what you need to consider:
Measurements: To ensure the right fit, you'll need to know your cat's girth, neck size, and length. Most manufacturers will provide a size chart that you can follow.
Adjustability: Look for adjustable straps and buckles to ensure a snug and secure fit. This will allow some room for your cat to grow or shed some pounds while still ensuring the jacket fits properly.
Material and Durability: It's a Cat-Eat-Cat World out There
The material of your cat's life jacket is crucial to its longevity and performance. Keep an eye out for:
Buoyancy: The primary role of a life jacket is to keep your cat afloat. The material should be lightweight yet buoyant. EPE foam is commonly used in life jackets because it provides excellent buoyancy.
Durability: Pick a life jacket made of ripstop or oxford cloth material. These materials are resistant to tearing and will stand up to your cat's claws.
Special Features: Reflective Strips, Rescue Handles, and More
Special features can greatly enhance the usefulness and safety of a cat life jacket. For example:
Reflective strips: These can make your cat easily visible in low-light conditions, improving safety.
Rescue handles: A sturdy handle on the back of the life jacket allows you to quickly and safely pick up your cat from the water if necessary.
Handles and D-Rings: Safety First
These features play a significant role in your cat's safety and your peace of mind.
Handles: Ensure the life jacket has sturdy handles that allow you to quickly and safely pick up your cat out of the water if necessary.
D-Rings: A D-ring on the back allows you to attach a leash. This is especially useful when you're taking your cat to new environments.
Color and Visibility: Spot Your Cat Easily
Cats are agile and curious, so they may wander off and become hard to spot in the water.
Bright colors: Choose a life jacket in a bright, easily visible color. This can help you keep track of your adventurous feline friend in the water.
Designs and patterns: Some life jackets come in fun and creative designs that not only make your cat look adorable but also improve visibility.
Quick-Release Straps: For Easy Removal
Finally, you'll want to make sure that the life jacket is as easy to remove as it is to put on. Look for:
Quick-release buckles: These allow for speedy removal of the life jacket, making it less of a hassle when you're back on dry land.
By considering these factors, you'll be well on your way to finding the perfect cat life vest for your feline friend.
---
How to Measure a Cat for a Life Jacket
Choosing the correct size of a life jacket for your cat is critical for its safety and comfort. An oversized life jacket could slip off, and a too-small life jacket could restrict your cat's movement and even be harmful. Here's a step-by-step guide on how to measure your cat for a life jacket:
Measuring Your Cat's Weight and Size
First, it's essential to have accurate measurements of your cat's weight and size. You'll need a measuring tape and a scale for this.
Weight: First, weigh your cat on a regular household scale. This measurement is important because it helps ensure the jacket has enough buoyancy to keep your cat afloat.
Length: Measure your cat from the base of the neck (where it meets the body) to the base of the tail. This length is often referred to as the 'back length.'
Chest Girth: Measure around the largest part of your cat's chest, usually just behind the front legs. This is the most important measurement when sizing a life jacket.
Neck Girth: Finally, measure around your cat's neck at the point where a collar would naturally rest.
For more tips on how to accurately measure your cat, check out our detailed guide on measuring your cat.
The Role of a Good Fit in Safety
A well-fitting life jacket is not just about comfort; it plays a significant role in keeping your cat safe. Here's why:
Security: A snug-fitting life jacket ensures your cat won't slip out when in the water.
Movement: A well-fitting jacket will provide your cat with the freedom to move, swim, and navigate without restriction. A life jacket that's too small can be restrictive and uncomfortable, while a jacket that's too large can hamper movement.
Buoyancy: A properly sized life jacket will have the right amount of buoyancy to keep your cat afloat.
Remember, always try on the life jacket before venturing out to the water. Your cat should be able to move freely, and the jacket should not cover your cat's eyes or hinder its movement in any way. If you're unsure, it's always a good idea to consult with a pet professional or the manufacturer.
---
Tips and Tricks for Training Your Cat to Use a Life Jacket
Cats and water typically don't mix, and cats and life jackets? That's another story altogether. If you're planning to bring your feline friend along for water adventures, training them to comfortably wear a life jacket is crucial. Here's how to ease your cat into this new experience:
Easing Your Cat into Wearing a Life Jacket

Before hitting the open water, there are several steps you can take to help your cat become comfortable with their new life jacket. Here's a step-by-step guide to easing your cat into wearing a life jacket:

Introduce the Life Jacket

Cats can be cautious creatures. Start by allowing your cat to investigate the new life jacket on their own terms. Place it in their environment and let them sniff and explore it.

Pro Tip: Use catnip or treats to create a positive association with the jacket.

Associate with Positivity

Pair the introduction of the life jacket with positive experiences. This might include treats, pets, or praise. You want your cat to associate the life jacket with happy times.

Pro Tip: Rewarding them immediately after they interact with the life jacket will help to reinforce the positive association.

Start with Short Sessions

When your cat is ready, put the life jacket on them for short periods in a familiar environment. Remember to continue offering rewards and praise.

Pro Tip: The first few times, put the jacket on just before mealtime, then remove it after they've eaten. This will give them a positive association with wearing the jacket.

Gradually Increase the Time

Gradually extend the amount of time your cat wears the life jacket. Make sure to monitor your cat closely for any signs of discomfort or distress.

Pro Tip: Make sure the jacket is not too tight. Check that you can slip two fingers between the jacket and your cat's body.

Training Your Cat for Water Adventures

Now that your cat is comfortable with their life jacket, it's time to introduce them to water. Remember, not all cats will love water, but with patience and positive reinforcement, you can help your cat have a safe and enjoyable experience.

Start Small

Don't plunge your cat into a large body of water immediately. Start with a shallow pan of water and allow them to explore.

Pro Tip: Use a large, shallow tray filled with warm water. Make sure the water is shallow enough for your cat to touch the bottom.

Gradually Introduce Deeper Water

As your cat becomes comfortable with shallow water, you can gradually introduce them to deeper water, such as a bathtub.

Pro Tip: Make the experience more enjoyable by adding some floating toys for your cat to play with.

Monitor Your Cat Closely

Always supervise your cat around water, especially in the early stages of training. Look for signs of distress or discomfort.

Pro Tip: Keep your sessions short and sweet. It's better to have multiple short sessions rather than one long one.

Practice with the Life Jacket

Once your cat is comfortable in deeper water, have them wear their life jacket during water sessions. This will help them get used to the feel of the jacket in water.

Pro Tip: Reward your cat after each session with the life jacket. This will reinforce their positive association with the life jacket.

Reward and Reinforce

Always end water sessions on a positive note, with plenty of praise and treats.

Pro Tip: Use high-value treats that your cat doesn't get at other times. This will make the rewards even more special.
Remember, every cat is different, and patience is key. Celebrate small victories and don't rush the process. Your cat's comfort and safety are paramount.
---
Safety Tips for Cats in Water
Navigating the great expanse of water can be an exhilarating adventure for your feline friend, especially with the right life jacket. But, like every adventure, it comes with its set of risks. Let's dive into how you can make this experience safer for your kitty and learn what steps to take if things go a little overboard.
What to Do In Case of an Emergency: Getting Your Cat out of the Water
If your furry friend happens to take an unplanned plunge, it's essential to stay calm and follow these steps:
Maintain Composure: It's easier said than done, but in an emergency, a clear mind works best. Stay composed; your cat's safety hinges on your swift and calculated actions.
Rescue Handle to the Rescue: The rescue handle on your cat's life jacket isn't there for decoration. Grab it firmly and lift your cat out of the water. If your cat is on the heavier side, support their rear end while lifting to prevent injury.
Offer Warmth: As soon as your cat is out of the water, swaddle them in a warm towel. Hypothermia is a real threat, and the towel will help retain your cat's body heat and speed up the drying process.
Health Check: Once they're dry and safe, perform a quick health check. Look for signs of injury or distress and consult your vet immediately if you find any.
Provide Comfort: The whole ordeal could be frightening for your cat. Hold them close, stroke their fur, and speak softly to offer reassurance.
Emergencies can be handled efficiently with the right steps, but they're best avoided. Here's how to keep the water fun and safe for your cat:
Eyes on the Prize: Whether it's a pool, lake, or the open sea, your eyes should always be on your feline. A moment's distraction can lead to an unnecessary scare.
Rest and Rehydrate: Swimming is a workout, and like any exercise, your cat needs to rest and hydrate frequently. Ensure they take regular breaks.
A Leash on Things: A leash adds another layer of safety, especially near large water bodies. It's not a substitute for your watchful eyes, but it can offer some peace of mind.
Stay Within Reach: Wherever your cat is, make sure you're close enough to reach them quickly in case of an emergency.
A water adventure can be a thrilling experience for your cat and a joy for you to watch. With these safety tips, we hope your cat's water exploration will be filled with nothing but purrs and splashes.
---
Conclusion
Cat life jackets are an essential piece of safety gear for any cat exploring the aquatic world. Not only do they provide buoyancy, warmth, and security, but they also increase visibility and allow for easy rescue in case of emergencies. It's clear that the importance of a well-fitted, high-quality cat life jacket cannot be overstated.
Our top picks for 2023 have showcased a range of options that balance style, comfort, functionality, and safety. Leading the pack is the Outward Hound Dawson Swim Cat Life Jacket. With its high-quality neoprene side panels providing buoyancy and thermal insulation, this jacket sets the bar high for cat life vests. It doesn't skimp on safety features either, boasting a reflective trim for visibility and a top handle for easy rescue.
However, no product can completely guarantee your pet's safety in the water, which is why it's critical to follow some safety guidelines. Always supervise your cat when they are in or near the water, and never rely solely on the life jacket for their safety. If your cat appears uncomfortable or stressed, remove them from the water immediately. And remember, no accessory is indestructible, so regularly check your cat's life jacket for any signs of wear and tear.
In conclusion, investing in a cat life jacket is a great step towards ensuring your cat's safety during their aquatic adventures. Always keep safety at the forefront, choose the best fit for your feline, and you'll have many happy and safe days out on the water.
Frequently Asked Questions
Can cats wear life jackets?
Absolutely, cats can wear life jackets. Although it might seem unusual, these devices are designed to provide safety during any water-related activities. Just ensure you get the right size and fit, as the comfort of your feline friend is as important as their safety in the water.
Do cat life jackets work?
Yes, cat life jackets are effective. They are specifically designed with buoyancy aids that help cats float in water. Moreover, many life jackets come with additional safety features such as easy-rescue handles and adjustable straps, providing an extra layer of security during your cat's aquatic adventures.
Can you use a dog life jacket for a cat?
Indeed, a dog life jacket can be used for a cat, provided that it fits properly. It's essential to take your cat's measurements and compare them with the product sizing chart before purchase. A good fit ensures comfort and efficiency, making the aquatic experience safer for your feline.
What size dog lifejacket should I buy for a cat?
The size of the life jacket for your cat depends on their measurements, specifically their girth. Most jackets come in different sizes, so you should measure your cat's girth and compare it with the product sizing guide. Remember, a well-fitted life jacket ensures better safety and comfort.
Do cats like water activities?
Some cats may enjoy water activities while others might be more apprehensive. This largely depends on the personality of your feline. Nonetheless, when safety measures are taken, such as using a well-fitted life jacket, water activities can become a fun and enriching experience for your pet.
Can you take a cat paddle boarding?
Yes, you can take your cat paddle boarding. With proper safety gear like a life jacket and some training, cats can enjoy a variety of water activities. It's a unique way to bond and engage in a fun outdoor activity together.