Are you and your feline friend ready to explore new frontiers? The Moorcat Astronaut Backpack Carrier might just be the perfect cat carrier for your space-faring adventures in 2023. Inspired by the iconic astronaut helmet, this backpack promises to keep your cat both secure and stylish. We've tested this celestial carrier with our very own feline crew members to help you decide if it's the ultimate space vessel for your cat. Ideal for urban explorers, hikers, and aspiring astronauts, but not suitable for hefty space cats over 15 pounds. Join us as we blast off into our hands-on review of this otherworldly cat backpack.
Moorcat Astronaut Backpack Carrier: Our Verdict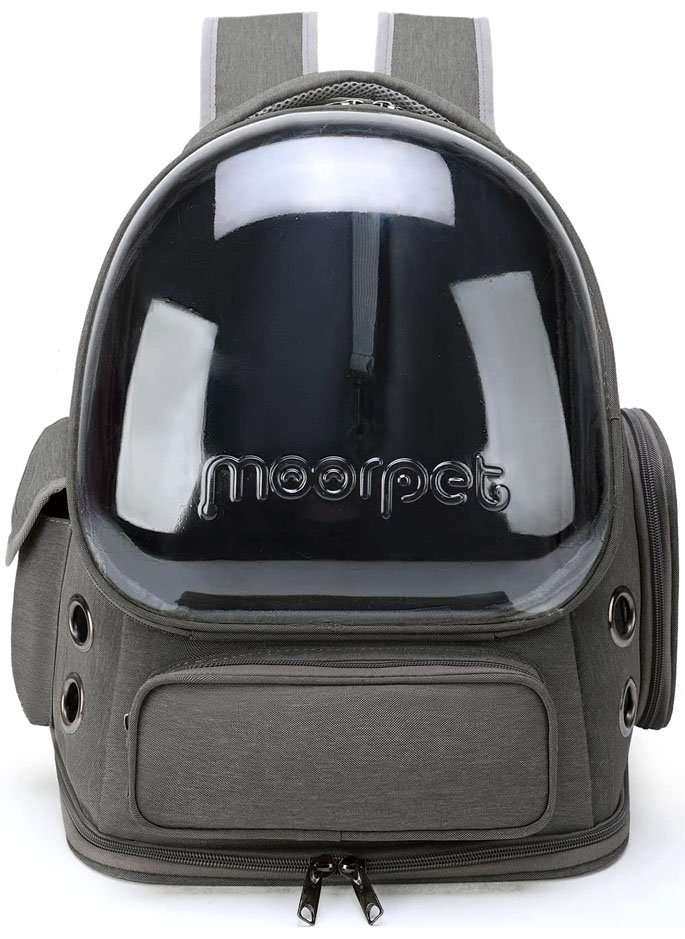 Excellent design, durability, and usability.
Comfortable straps, easy access, but film removal tricky.
Impressive ventilation, visibility, and extra features.
| Pros | Cons |
| --- | --- |
| Stylish design | Plastic window scratches |
| Comfortable straps | Difficult film removal |
| Durable materials | For cats up to 15 pounds |
Full Product Review
Get ready to embark on an interstellar journey with your feline sidekick! The Moorcat Astronaut Cat Backpack promises an out-of-this-world experience for cat owners who crave adventure. With its astronaut-inspired design, this cosmic carrier ensures your cat will boldly go where no cat has gone before. In this section, we'll dive into the key features of this celestial backpack and evaluate its durability, comfort, ventilation, safety, versatility, and more. So strap in and prepare for lift-off as we explore the Moorcat Astronaut Cat Backpack together!
Durability and materials
Constructed from high-quality ABS material and 600D Oxford cloth, the Moorcat Astronaut Backpack Carrier is waterproof, stain-resistant, and scratch-resistant. The materials feel durable and well-made, ensuring your cat stays safe and secure during your adventures.
Comfort and space
The ergonomic design includes wide, thick straps with adjustable lengths to reduce pressure on the wearer. The back panel is sewn with pearl cotton and breathable mesh for a comfortable and breathable experience. The three-dimensional frame, supported by fiber rods, provides ample space for cats to move and relax.
Ventilation and visibility
With ten vents on both sides and scratch-resistant mesh windows, the backpack offers excellent ventilation for your cat. The translucent design ensures sufficient visibility while maintaining a sense of security for your feline friend.
Safety features
The premium double zipper and built-in anti-escape lock prevent your cat from jumping out of the backpack unexpectedly. A built-in harness adds an extra layer of security, keeping your cat safely contained during your adventures.
Versatility and adaptability
The Moorcat Astronaut Backpack Carrier is suitable for various activities, including car travel, hiking, camping, and city walks. The foldable design allows for easy storage when not in use, saving space in your home.
Extra Features
Multiple entrances, expandability, and foldability make this backpack convenient and user-friendly. The front and side pockets are perfect for pet treats, and an open side door allows your cat to get out. You can also pet and feed your cat through this side door. The bottom can be fully opened, making it easier for cats to enter and exit.
This cat backpack delivers on its promise to provide a unique and enjoyable experience for both you and your feline friend. With its eye-catching design and plethora of features, it's no wonder that this carrier has become a favorite among cat-loving adventurers. Whether you're exploring the great outdoors or navigating the urban jungle, this backpack ensures your cosmic kitty remains comfortable, secure, and entertained throughout the journey. So gear up, fellow spacefarers, and get ready to conquer new galaxies with your furry co-pilot by your side!
---
Customer Reviews
To provide a well-rounded perspective on the Moorcat Astronaut Backpack Carrier, we've analyzed customer feedback and compared their pros and cons to our findings. Here's what customers have to say about this cat backpack.
Positive Features
Comfortable for both pet and owner: Customers appreciate the wide, thick, adjustable straps and breathable back panel, providing comfort for the wearer. Cats also enjoy the spacious interior and visibility.
Easy to clean: The waterproof and stain-resistant materials make cleaning a breeze, ensuring the backpack remains in excellent condition.
Stylish and functional: Users love the unique capsule design, which not only looks great but also provides a sense of security for their cats.
Negative Features
Plastic window scratches: Some customers noted that the plastic window tends to scratch over time, affecting the overall appearance.
Difficult film removal: Removing the protective film from the plastic window can be tricky, as it gets sewn into the seams during manufacturing.
Size limitations: The backpack is designed for cats up to 15 pounds, so larger cats may not fit comfortably.
Customer Reviews
"This backpack has been awesome for our cat. We take him outside all the time. The straps are very comfortable on the shoulders and the large glove gives him plenty of space to see or lay down out of sight."
"This would have been a 5-star rating if not for the plastic film covering the plastic dome. They sewed it into the seam. 30 mins later, I am still picking the film off. Otherwise, it is a sturdy pet carrier that I will have no problem putting my Maltese in for a fun walk."
"Whether you have a rabbit, guinea pig, cat, or dog, this is a great safety backpack for your small animal! It holds up to 15 pounds, maybe even more! There is extra storage space for little treats, food, or water. Great for rainy weather too! Keeps warm in the winter and cool in the summer! Airline safe too! I rate this backpack a DEFINITELY BUY IT item!"
In summary, the Moorcat Backpack receives glowing reviews from customers for its comfort, style, and functionality. The backpack's design is praised for offering an enjoyable experience to both pets and owners, while its ease of cleaning makes it a practical choice. However, some customers experienced difficulties with the plastic window scratching or film removal, and larger pets may not be the best fit for this carrier.
Overall, the majority of customers are satisfied with their purchase and recommend the Moorcat Astronaut Backpack Carrier as a worthwhile investment for pet owners seeking a unique and functional solution for their furry companions. This astronaut-inspired backpack continues to make a cosmic impact on the pet travel gear market, elevating the adventures of pets and their owners to new heights.
---
Final Thoughts
Overall assessment
The Moorcat Astronaut Backpack boldly takes cat carriers to new heights with its innovative design and space-age style. This cosmic backpack is perfect for the adventurous cat owner who wants to explore the world with their feline companion. With its emphasis on comfort, security, and adaptability, this backpack ensures that your cat will have a pleasant journey, whether you're trekking through the woods or navigating busy city streets. The ergonomic design, durable materials, and extra features make this celestial carrier a versatile option for a wide range of activities, taking your cat adventures to the final frontier.
Weighing the Pros and Cons
The Moorcat Astronaut Backpack Carrier is a fantastic choice for those seeking a unique and functional cat backpack. Its suitability for cats up to 15 pounds means it's compatible with most cat breeds. However, if you have a larger cat or are concerned about the plastic window scratching over time, you might want to consider alternative options.
Final recommendation for potential buyers
In conclusion, the Moorcat Astronaut Backpack Carrier is an excellent investment for cat owners who want a comfortable, stylish, and out-of-this-world travel solution. While it may not be the perfect fit for every cat or owner, its innovative features, attention to detail, and cosmic design make it a standout choice among cat carriers. So, if you're ready to embark on interstellar adventures with your feline friend, look no further than the Moorcat Astronaut Backpack Carrier – the sky's the limit!
If you're searching for a dome window cat backpack suited for smaller feline friends, check out the Lollimeow Bubble Backpack Carrier, a purr-fectly designed and comfy option for petite cats and their jet-setting owners.
Where to Buy the Moorcat Astronaut Cat Backpack Carrier?
Looking for both style and functionality in a backpack for your cat? Check out our selection of bubble backpacks for cats and find the perfect one!
We personally test every cat backpack carrier featured in our reviews and guides to provide accurate, data-driven recommendations.
You help support Meowa's product testing and reviews by purchasing from our retail partners. When you buy through our links, we may earn a commission.