Cats are known for their curious nature and love for exploration, but when you live in an urban setting, ensuring their safety while satisfying their adventurous spirit becomes a challenge. That's where outdoor cat enclosures come in handy. Also known as 'catios,' these structures provide the perfect solution for cat parents keen on giving their feline companions a taste of the great outdoors in a safe and controlled environment.
Outdoor cat enclosures are more than just a trend – they're an important investment in your cat's wellbeing. They offer a safe, dedicated space for cats to enjoy the outside world without risking their safety. From bird-watching to basking in the sun, these enclosures allow your feline friend to indulge their natural instincts while providing you with peace of mind. As we delve into the world of the best outdoor cat enclosures and catios, we'll explore the myriad of benefits they bring for both you and your cat.
This guide's recommendations result from our expert team's thorough research, including user reviews, product specifications, and firsthand experiences. This rigorous process guarantees our reviews' authenticity, guiding you to make informed decisions. Our reviews remain unbiased and credible; however, please note that we may earn an affiliate commission for purchases made through our links.
Top 6 Picks for the Best Outdoor Cat Enclosures in 2023
Venturing into the realm of pet care, we've meticulously curated six standout outdoor cat enclosures of 2023. These aren't your typical pet houses; each marries aesthetics, functionality, and safety, designed for discerning cats and their owners. Get ready to unravel our insightful reviews and discover the perfect open-air oasis for your feline friend. Welcome to the exciting world of cat luxury with the best outdoor catios.
* $ (budget-friendly, $0-$100), $$ (mid-range, $100-$300), and $$$ (higher-end, $300+).
Imagine a peaceful retreat for your cat where they can enjoy the sensory delight of the outdoors while remaining safely contained. The PawHut Large Wooden Outdoor Cat House makes this possible. This enclosure is not only a functional space but also an aesthetically pleasing addition to your backyard. Its modern and natural style, with the durability of fir wood, is designed to provide a comfortable and engaging experience for your cat.
One of the standout features of the PawHut is its multi-tiered main house. It's complete with a ventilated window, sliding door, small hinged door, and a ramp for easy access. These thoughtful details allow your cat to explore, play, and rest within the enclosure, keeping them entertained and safe.
The PawHut's durable fir wood construction, coupled with its wire enclosure, offers longevity and reliability. It's sealed with a pet-friendly sealant that adds to the resilience of the product, ensuring that your feline friends can enjoy the outdoors in a secure environment. Moreover, the weatherproof design, featuring a flat roof covered with asphalt, protects against both sun and rain.
Detailed features and specifications:
Dimensions: The PawHut is a spacious enclosure with dimensions 37.25″D x 76.75″W x 68.75″H, offering plenty of room for your cat(s) to roam and play.
Capacity: Due to its size, the PawHut can comfortably accommodate multiple cats at once.
Material: Constructed from fir wood and enclosed with solid metal wire, the PawHut ensures durability and resistance to various weather conditions.
Setup Process: While the setup process may require some time and effort, the assembly instructions are clear, and no professional installation is needed.
Additional Features: The PawHut includes a ventilated window, sliding door, small hinged door, and a ramp for easy access, providing a fun and safe environment for your cat(s).
Portability: Due to its size and wooden construction, the PawHut isn't easily moved or repositioned. It's best to set it up in a chosen location and leave it in place.
| Pros | Cons |
| --- | --- |
| Multi-tier design provides engaging environment | Not easily portable due to size and weight |
| Durable and weather-resistant material | Setup may be time-consuming |
| Can accommodate multiple cats | |
Real-Life User Reviews and Testimonials:
Users have generally appreciated the PawHut for its durable construction and spacious design. Despite some minor issues with the setup process and portability, the PawHut has consistently provided a safe, outdoor haven for their feline friends. Many owners have even made additional enhancements, such as adding insulation or play perches, to make the enclosure more comfortable for their cats.
Conclusion: The PawHut Large Wooden Outdoor Cat House proves to be an excellent choice for those seeking to give their cats the opportunity to safely enjoy the outdoors. Its modern design, durability, and thoughtful features make it a top pick for any cat owner. Keep in mind, however, that you may need to spend some time on setup and consider additional enhancements to make the space even more comfortable for your pet. Overall, it is a worthy investment for the happiness and wellbeing of your beloved cats.
---
Are you the proud parent of some adventure-loving felines? If so, the Aivituvin AIR22 Catio Outdoor Cat House could be a game-changer for your family. With an intelligent design aimed at maximizing your pets' enjoyment and safety, it strikes an ideal balance between indoor comfort and outdoor exploration. Nestled perfectly into compact yards or balconies, this outdoor cat enclosure provides a novel solution for introducing your indoor cat to the outside world without compromising their safety.
Crafted from durable fir wood and reinforced with an extra strength strip, this catio is designed to withstand both weather and wear, ensuring its longevity. The waterproof roof offers shelter from the elements, allowing your cat to enjoy the outdoors in any weather condition. On wheels for easy maneuverability, this catio also features brake casters, enhancing safety by allowing the enclosure to be secured in place.
This Aivituvin creation comes equipped with multiple levels of platforms, providing a fun-filled, multi-tiered playground that encourages healthy activity in your pets. With a small resting house inside, the catio also offers a private space for rest and relaxation. The incorporation of a clever window design lets your pets enjoy unrestricted access between the house and the enclosure, promoting free movement and exploration.
Detailed features and specifications:
Dimensions: The enclosure measures 31.5″ in depth, width, and stands 70.9″ tall.
Capacity: It can comfortably accommodate 2-3 cats or other small pets.
Material: The enclosure is constructed from 100% solid fir wood, providing robust and durable structure.
Setup Process: The enclosure includes pre-drilled screw holes for easy assembly. However, a drill is essential for the setup.
Additional Features: It includes a removable PVC bottom layer for easy cleaning, multiple platforms for play, and a small indoor resting house.
Portability: Equipped with 4 wheels, the enclosure can be effortlessly moved and repositioned.
| Pros | Cons |
| --- | --- |
| Spacious multi-level space | Might be too bulky for very small spaces |
| Durable construction | May require additional weatherproofing in harsh climates |
| Easy to assemble, easy to clean | |
Real-Life User Reviews and Testimonials:
Most users appreciate the unique forest design and multiple features of the cat tree. They report that their cats love the multiple scratching posts and resting spots. The assembly process was found to be somewhat challenging, but manageable with patience and the included instructions.
Conclusion: All things considered, the Aivituvin AIR22 Catio Outdoor Cat House is a remarkable outdoor enclosure that could be the perfect outdoor sanctuary for your pets. Combining a robust build with a smart design, this enclosure proves itself a great investment for any pet parent. Despite minor issues, it seems to deliver on its promise of providing a safe, engaging, and comfortable space for your feline companions to enjoy the outdoors.
---
Let's talk about the PawHut Small Multi-Level Platforms Catio – an outdoor cat enclosure that offers your feline friends a safe and enjoyable spot to take in the outdoors. It's a lifesaver for pet owners who yearn to see their pets relish in the fresh air and sunny days, but dread the potential risks associated with unsupervised outdoor exploration. The PawHut Catio beautifully combines the best of both worlds: the thrill of the outdoors with the safety of an enclosed space.
This enclosure exhibits an excellent design – spacious enough for your kitty to lounge, play, or explore. Plus, the oversized front door adds to its charm by providing easy access. When your pet gets a bit too adventurous or rowdy, you can simply close the door, and voila! Peace restored. Notably, the weather protection is on point, featuring a flat roof covered with asphalt to keep your furry friends dry during unexpected rain showers.
The PawHut Catio doesn't just stop there. It raises the bar higher with three-tiered shelving, allowing your cats to jump, climb, and relax on different levels, satiating their natural curiosity and active lifestyle. Truly, it is an ideal sanctuary for your cats to enjoy the great outdoors without any compromises on their safety and comfort.
Detailed features and specifications:
Dimensions: 70.75″L x 31.5″W x 44″H – offering a spacious area for your cats to play and rest.
Capacity: Designed to comfortably accommodate 1-2 cats, depending on their size.
Material: Constructed from solid fir wood and durable wire mesh – ensuring durability and weather-resistance.
Setup Process: Assembly is required, preferably with two people to ensure proper setup.
Additional Features: Equipped with three large platforms and an oversized front door for easy access.
Portability: It's moderately portable, thanks to its lightweight design, but you might consider adding wheels for easier repositioning.
| Pros | Cons |
| --- | --- |
| Roomy interior | Assembly can be tricky |
| Solid construction | |
| Multiple platforms | |
Real-Life User Reviews and Testimonials:
Customers generally applaud the PawHut Catio for providing a safe, spacious environment for their cats to experience the outdoors. They appreciate the sturdy construction, the clever inclusion of multiple platforms, and its value for money. However, some users pointed out that the roof seams might need extra sealing for optimal rain protection, and the front door hardware could be of better quality. Overall, users agreed that their cats love this catio and spend a significant amount of time lounging in it.
Conclusion: In a nutshell, the PawHut Small Multi-Level Platforms Catio is a standout choice for pet owners looking to enrich their cat's life with outdoor experiences, but without the risks associated with free roaming. It offers a well-designed, safe, and comfortable space for your cats to play, lounge, and explore. While it does require assembly and some additional sealing for weather protection, its pros far outweigh its minor cons, making it a highly recommended choice for your beloved feline friends.
---
4. Best Portable Outdoor Cat Enclosure for Traveling: Ruff 'n Ruffus Pet Playpen
The Ruff 'n Ruffus Portable Foldable Pet Playpen is a remarkable find for cat owners seeking a portable and secure outdoor catio. Its innovative design caters to your feline's outdoor adventure instincts while ensuring their safety and comfort. The playpen is crafted from high-quality, durable polyester material that can stand the test of time and withstand even the most enthusiastic cat antics.
This model, available in three sizes (medium, large, and extra large), offers ample space for your cats to roam freely, ensuring their comfort during play and rest times. With its water-resistant design, it ensures your pet is dry even during an unexpected drizzle, and the removable zippered top can be easily detached or attached based on your cat's preferences and the weather.
The playpen shines in its utility, featuring an 8-panel design with protected seams and reinforced corners for an enduring, tear-resistant structure. It also comes with a bonus foldable food bowl, making it a convenient companion for travel. The playpen sets up easily and can be folded quickly for portability. Furthermore, it has multiple windows offering your cats a 360° view of their surroundings, a crucial feature that can help reduce anxiety and increase their overall enjoyment.
Detailed features and specifications:
Dimensions: Three sizes available: Medium (29″ x 29″ x 17″), Large (36″ x 36″ x 23″), and Extra Large (48″ x 48″ x 23.5″).
Capacity: The playpen can comfortably accommodate cats of various sizes, and dogs up to 50 lbs, depending on the selected size.
Material: The playpen is made from durable, water-resistant polyester.
Setup Process: It is easily foldable for quick setup and breakdown, no professional installation required.
Additional Features: The playpen features protected seams, reinforced corners, a zippered door, a removable top, and 8-panel window design.
Portability: The playpen is lightweight, easily foldable, and comes with a convenient carrying case.
| Pros | Cons |
| --- | --- |
| Spacious and adjustable for various cat sizes | The bottom material could be stronger |
| Durable and weather-resistant material | No external loops for additional security |
| Easy to assemble and portable | |
Real-Life User Reviews and Testimonials:
The playpen is highly praised by users for its sturdiness and practicality. Customers appreciate the space it offers, the durable material that withstands cats' claws, and its overall quality. They also note the convenience of the foldable design and the usefulness of the additional features.
Conclusion: The Ruff 'n Ruffus Portable Foldable Pet Playpen proves to be a standout choice for those seeking the best portable and travel outdoor catio. Its innovative design, alongside its practical and useful features, provide a comfortable and secure outdoor space for cats. Its robust construction, portability, and simplicity make it a valuable asset for cat owners, ensuring their feline friends can enjoy the great outdoors safely and comfortably.
---
Stepping into the world of outdoor cat enclosures, the Kitty City Outdoor Mega Kit rises to the occasion as a perfect sanctuary for your furry friends. Offering a unique blend of design, space, and user-friendly features, it serves as an idyllic playground that respects the natural instincts of your cat, while providing a safe haven for them to frolic and rest. This isn't just any outdoor enclosure, it's a marvelous piece of cat-friendly architecture that redefines the meaning of "fun" for your feline companions.
Boasting a lightweight yet sturdy structure, this enclosure enhances the play experience with a breathable nylon mesh design, allowing fresh air to circulate, while also providing a clear view of your playful cats. The included cubby cubes can be repositioned within the structure, keeping things fresh and exciting for your cats. No need to worry about having multiple cats either, the Kitty City Mega Kit accommodates a small clowder with ease, enabling them to run, hide, and chase freely.
Moreover, the convenience of this enclosure is evident in its accessibility. A zip door on the side makes it easy to reach in, whether it's meal time or time for some cuddling. Want to expand your cat's kingdom? The Mega Kit can easily be connected with other Kitty City mesh playsets via tunnels, offering endless opportunities to customize your feline's playground.
In addition, the compact footprint of the Kitty City Outdoor Mega Kit makes it a great balcony cat enclosure for apartment dwellers. Its design ensures it comfortably fits into small spaces, providing your cat with an outdoor experience without requiring a large backyard.
Detailed features and specifications:
Dimensions: The enclosure measures 47.25″L x 33″W x 46.75″H.
Capacity: Suitable for all breed sizes, making it perfect for multi-cat homes.
Material: Made of durable, breathable nylon mesh.
Setup Process: Assembly is required but user reviews suggest it's a straightforward process.
Additional Features: Includes rearrangeable cubby cubes for versatile play, large zip door for easy access, and the option to connect to other Kitty City sets.
Portability: Given its lightweight design (only 11.8 lbs), this enclosure can easily be moved or repositioned.
| Pros | Cons |
| --- | --- |
| Lightweight and easily movable | Assembly required |
| Accommodates multiple cats comfortably | |
| Customizable layout with cubby cubes | |
Real-Life User Reviews and Testimonials:
The Kitty City Outdoor Mega Kit has garnered glowing reviews from cat owners. Users frequently commend its lightweight design, easy assembly, and suitability for multi-cat homes. Many express delight at the enclosure's portability, both indoors and outdoors. Cat owners report their cats readily adapting to the enclosure, utilizing it as a safe space to play, rest, and observe the world around them.
Conclusion: All in all, the Kitty City Outdoor Mega Kit stands out for its versatile, user-friendly, and engaging design, making it a fantastic choice for cat owners seeking a safe, yet fun outdoor space for their cats. Whether you have a single cat or multiple furry friends, this enclosure accommodates all, providing a splendid playground that respects their instincts and love for exploration. Lightweight, durable, and expandable, this outdoor catio is certainly one to consider for your feline friends' next adventure.
---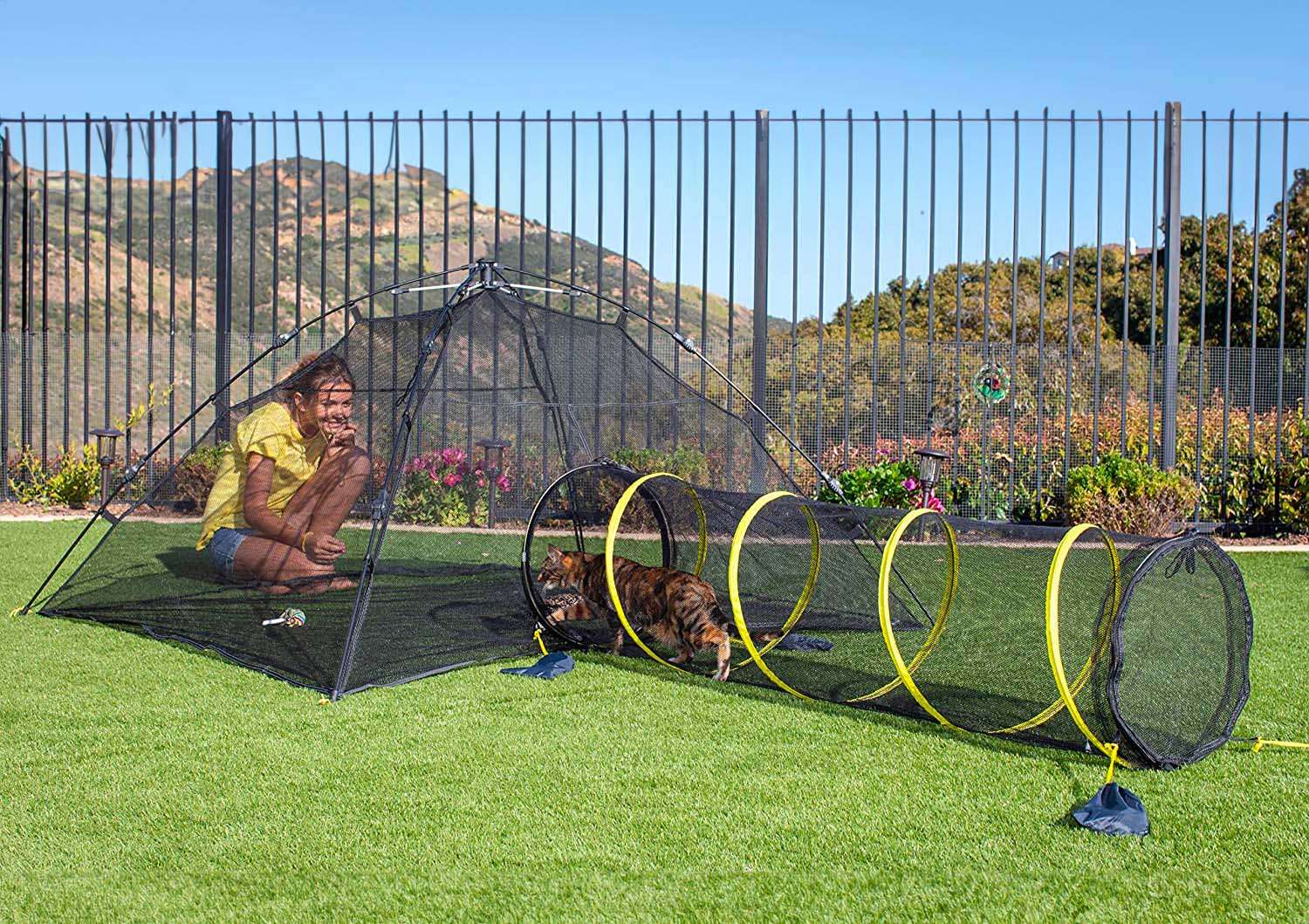 Here's the scoop on the Outback Jack Kitty Compound Play House, a spacious, lightweight, and portable outdoor cat enclosure that goes beyond the norm to provide your cat with a secure outdoor playground. The joy this product brings to cats is unmatched. It ticks off all the boxes that a cat parent could ask for in an outdoor cat enclosure, making it a perfect choice for those who want to let their indoor cats experience the thrill of the outdoors in a safe and controlled environment.
The spaciousness of this enclosure offers over 30 square feet of playing area, which allows your furry friends to explore, chase, and pounce freely, bringing out their natural instincts. They'll have space to run, relax, or simply observe their surroundings from the safety of their enclosure. You can watch your cat leap, chase, or just sunbathe, all in the safety of this thoughtfully designed playhouse.
The Outback Jack Kitty Compound Play House's design isn't only about aesthetics, but also, more importantly, about function. The enclosure is made from durable, breathable mesh, keeping bugs out while letting fresh air in. The zippered doors at both ends ensure easy access, while the tunnel attachment offers extra play options. It's also designed for straightforward assembly, and its lightweight nature makes it easy to move around your yard or even bring along on your travels.
Detailed features and specifications:
Dimensions: The playhouse measures 34″L x 21.5″W x 6.5″H.
Capacity: Provides over 30 square feet of space, perfect for one or two cats.
Material: Constructed from durable nylon material that is both weather-resistant and breathable.
Setup Process: Easy pull string design for swift assembly and disassembly. No professional installation needed.
Additional Features: Includes one cat tent and one cat tunnel, both of which can be used together or separately.
Portability: Its lightweight design makes it easy to transport, making it ideal for travel or moving around your yard.
| Pros | Cons |
| --- | --- |
| Spacious and versatile design | May not be sturdy enough for large or particularly active cats |
| Made of durable and breathable material | Setup may be time-consuming |
| Portable and travel-friendly | |
Real-Life User Reviews and Testimonials:
The Outback Jack Kitty Compound Play House has received an overwhelmingly positive response from customers. They appreciate its straightforward setup process, spacious design, and its effectiveness in keeping their pets entertained and secure. The portability and durability of the material are also commended. However, some users expressed a need for more stability and strength in the enclosure to withstand more active or larger cats.
Conclusion: The Outback Jack Kitty Compound Play House is a versatile, functional, and durable choice for those looking to provide their cats with a safe outdoor experience. Its thoughtful design caters to the needs of the pet as well as the pet parent. With the perfect blend of space, durability, and portability, it truly stands out as an excellent option for your pet's outdoor adventure. The pros undoubtedly outweigh the cons, making it a worthy investment for your furry friend.
---
The Importance of Outdoor Cat Enclosures
When it comes to cat ownership, one of the perennial debates centers around whether to allow your feline friend the freedom to roam outdoors. While the fresh air and the chance to exercise natural behaviors are certainly appealing, the outside world is rife with potential dangers. This dilemma is where outdoor cat enclosures shine, striking a balance between safety and stimulation.
Safety: The most significant benefit of outdoor cat enclosures is safety. Traffic, predators, harmful substances, and other cats pose a significant risk to cats wandering outdoors unsupervised. An enclosure ensures they can enjoy fresh air and watch birds without the dangers associated with free-roaming.
Stimulation: Cats are natural hunters and observers. A catio offers a controlled environment where they can satisfy their curiosity and exercise their predatory instincts safely. From chasing butterflies to stalking birds, the stimulation provided by an outdoor enclosure can be crucial for a cat's mental health.
Exercise: While indoor cats can also get plenty of exercise, there's no denying the extra space an outdoor enclosure provides. Running, jumping, and climbing opportunities can help keep your cat physically healthy and avoid issues such as obesity.
Territory: Cats are territorial animals, and an outdoor enclosure provides them with a space to call their own. They'll enjoy the freedom to mark it, watch over it, and rest in it at their leisure.
Quality of Life: For indoor cats, an outdoor enclosure can dramatically improve their quality of life. The sensory stimulation from different sights, sounds, and smells can greatly enrich their everyday experience.
Reducing Stress: Outdoor enclosures can help reduce stress in multi-cat households by providing another space for retreat and relaxation. They can also be useful for introducing a new pet into the household gradually.
In a nutshell, outdoor cat enclosures offer a perfect solution for cat owners who wish to enrich their cat's life while keeping them safe. But not all enclosures are made equal. So, let's dive into finding the best outdoor cat enclosures that meet the needs of your specific feline friend.
---
What to Consider Before Purchasing an Outdoor Cat Enclosure
Before you make a commitment and buy an outdoor cat enclosure, there are a few critical considerations you should bear in mind. You want the best for your cat, which means not just any old enclosure will do. Let's take a look at the factors that will guide you in finding the best outdoor cat enclosures for your furry friend.
Size: One of the first considerations when buying an outdoor cat enclosure should be the size. It needs to be large enough to allow your cat to move around freely, climb, jump, and play. The size will also depend on how many cats you plan to house in the enclosure. If you have more than one cat, ensure there's ample room for all of them to enjoy their own space without feeling cramped. Similarly, the size of your outdoor space can influence the size of the catio you select.
Material: The material of the cat enclosure plays a crucial role in its durability and safety. Catios are generally made from a combination of wood, metal, and mesh. Wooden structures offer a natural aesthetic and are typically durable, while metal is stronger and more resistant to the elements. The mesh or netting should be robust enough to withstand your cat's claws and teeth, while preventing them from escaping or potential predators from entering.
Design: The design of the cat enclosure is essential. It should include vertical space for climbing, shaded areas for relaxation, and secure entrances and exits. Additionally, the design should facilitate easy cleaning. For example, a catio with removable panels or doors can make cleaning and maintenance tasks simpler.
Portability: If you plan to move your catio around or want to take it with you on trips, portability is an important factor. Lightweight materials and foldable designs are ideal for portable outdoor cat enclosures.
Security: Safety is a top priority when choosing an outdoor cat enclosure. It should be sturdy and secure enough to keep your cat safe from potential threats like other animals. Look for enclosures with locking doors and secure mesh that cannot be easily breached.
Weather Resistance: An outdoor cat enclosure should be built to withstand various weather conditions. This means it should have a waterproof roof to shield your cat from rain and sun. If you live in a particularly cold or hot area, the material of the catio should be able to withstand these extremes.
Ease of Assembly: Some outdoor cat enclosures come pre-assembled, while others require assembly. Consider your DIY skills and how much time you're willing to spend on the setup. Remember, the security of your cat's enclosure shouldn't be compromised by poor assembly.
Integration with Your House: Depending on your house design, you might prefer an outdoor cat enclosure attached to a window or one that connects to a cat flap in your door. This allows your cat to enter and exit the enclosure at their leisure, offering them more freedom and flexibility.
Budget: Last but not least, consider your budget. Outdoor cat enclosures come in a range of prices, and while it's essential to ensure quality and safety, there's often no need to break the bank. You can find good quality, best budget outdoor cat enclosures that don't compromise on essential features.
While these are general factors to consider, your specific circumstances, such as the number of cats you have, their personalities, and your living conditions, will influence the best choice for your needs. The next section will guide you through our top 10 picks for the best outdoor cat enclosures, broken down by category. Stay tuned!
---
Understanding Different Types of Outdoor Cat Enclosures
Cat owners have a myriad of options when it comes to choosing the best outdoor cat enclosures. There's a perfect solution out there for every cat and every living situation. Let's delve into the specifics of four popular types of outdoor cat enclosures: Attached to Window Enclosures, Large Outdoor Enclosures, Portable Outdoor Enclosures, and Catios with Cat Tunnels.
Large Outdoor Enclosures
Large outdoor cat enclosures, as the name suggests, are spacious, standalone structures that provide your cat with a vast outdoor area to explore and play. They're the perfect solution for homeowners with a yard or a large outdoor area. These enclosures can accommodate multiple cats and even include amenities like climbing trees, platforms, and hammocks.
The benefit of large outdoor enclosures is they provide ample space for your cat to exercise, play, and enjoy the fresh air. The downside is that they require more space and maintenance than other types of enclosures. However, if you have the room and are committed to providing the best outdoor experience for your cat, large enclosures are an excellent choice.
Portable Outdoor Enclosures
For those who often travel with their cats or have a nomadic lifestyle, portable outdoor cat enclosures can be a lifesaver. These are lightweight, foldable, and easy to carry. They provide a secure outdoor space for your cat, regardless of where you are.
The main advantage of portable outdoor enclosures is their convenience. They can be quickly packed and set up anywhere, ensuring your cat always has a safe outdoor environment. They're especially beneficial for outings, visits to friends and family, or if you're moving and need a temporary outdoor space for your cat.
Catios and Cat Tunnels
Outdoor catios are often custom-built and attached to the side of a house, allowing your cat to go in and out as they please. They can be large or small, simple or complex, depending on your cat's needs and your outdoor space.
A catio can become even more exciting when paired with outdoor cat tunnels. These tunnels can link different parts of the catio together or connect the catio with another outdoor cat enclosure. Tunnels add an extra element of adventure and exploration for your cat, keeping them entertained and active.
The significant advantage of outdoor catios and cat tunnels is that they give your cat a sense of freedom and control, without compromising their safety. They allow your cat to indulge their natural instincts, such as climbing, scratching, and observing their surroundings.
Attached to Window Enclosures
An outdoor cat enclosure attached to a window is a superb solution for cat owners with limited outdoor space or who live in apartment buildings. These enclosures can be securely attached to a window opening, providing a small enclosed space for your cat to enjoy fresh air and observe the world outside.
The significant benefit of window enclosures is that they are easy to install and remove, causing no permanent alteration to your home. They allow your indoor cat to experience the outdoor world from the safety and comfort of their familiar indoor environment. Moreover, since the enclosure is connected to your house, your cat can enter and exit at their leisure, providing them a sense of independence and control.
In conclusion, the type of outdoor cat enclosure you choose will depend on your cat's needs, your living conditions, and your lifestyle. Whether you opt for a window enclosure, a large outdoor enclosure, a portable one, or a catio with tunnels, ensure it's safe, durable, and provides a stimulating environment for your cat.
---
Caring for Your Outdoor Cat Enclosure
Once you've chosen the best outdoor cat enclosure for your feline friend, the next step is to keep it well-maintained and safe for your cat.
Keeping the Enclosure Clean and Hygienic
Maintaining cleanliness in your cat's outdoor enclosure is crucial for your cat's health and well-being. Regular cleaning reduces the risk of diseases and infections. To do this, remove any waste daily and wash food and water dishes regularly. Depending on the materials used, you may need to hose down the enclosure or wipe down surfaces with a pet-friendly cleaning solution. For fabric components or bedding, consider washable materials, so they can be cleaned easily.
Keeping an Outdoor Cat Warm Outside
Even in the best outdoor cat enclosures, temperature regulation is a significant concern. Cats love basking in the sun, but they also need a shaded area to escape heat during peak hours. In colder seasons, keeping your cat warm is vital. An outdoor cat house filled with warm materials such as blankets, hay, or special pet heating pads can provide a cozy retreat. In harsh winter conditions, consider bringing your cat indoors or invest in outdoor heated cat houses. For a more in-depth understanding of optimal temperatures for cats, check out our guide on how hot is too hot for cats.
What to Put in an Outdoor Cat's House for Warmth
To keep your cat warm, consider lining the cat house with thermal blankets. A cat bed with raised edges can help keep the warmth in. Straw or hay is another good insulator that stays dry and doesn't hold moisture. Avoid using materials that can retain dampness, like regular blankets or towels, as they can make the cat house cold. If you use a heating pad, ensure it's pet-safe and doesn't overheat.
Tips for Using Outdoor Enclosures Safely and Effectively
Monitor your cat: Keep an eye on your cat while they're in the enclosure, especially in the beginning. This will allow you to ensure they're safe and comfortable and not trying to escape.
Provide necessities: Make sure your cat has access to fresh water and a shaded area at all times. If your cat spends extended periods in the enclosure, consider including a litter box as well.
Enrich the environment: Add toys, scratching posts, and climbing areas to the enclosure to keep your cat entertained and exercised.
Consider the weather: Always consider the weather conditions. On extremely hot or cold days, it might be best to keep your cat indoors.
Ensuring the safety, comfort, and hygiene of your cat's outdoor enclosure will help maximize the benefits they receive from it. The best outdoor cat enclosures or outdoor catios are ones where your cat can play, rest, and watch the world go by in a safe and clean environment.
---
DIY Outdoor Cat Enclosures
If you're handy with tools and love a good DIY project, creating a homemade outdoor cat enclosure can be a rewarding endeavor. The appeal of DIY outdoor cat enclosures or outdoor catios lies in their customization potential. However, it's essential to consider the pros and cons before embarking on this path.
The Possibility and Process of Creating DIY Outdoor Cat Enclosures
Building a DIY cat enclosure can be as simple or complex as you want it to be. You could start with a basic plan, like a cat tunnel attached to a window, or design an elaborate structure complete with multiple levels and climbing apparatus.
To begin, plan your enclosure. Identify the space available and consider how the design will impact your home's exterior. Sketch out your design, incorporating elements that your cat will enjoy like climbing shelves, hiding places, and a shaded area for resting.
Next, gather your materials. The most common materials for a DIY cat enclosure are wood and wire mesh, but you could also consider PVC pipes for a lightweight, weather-resistant structure.
Construct your enclosure with safety as your top priority. Ensure all materials used are pet-safe, and there are no sharp edges or small gaps where your cat could get stuck. Test the stability of the structure, and secure it to avoid tipping over.
Pros and Cons of DIY Outdoor Cat Enclosures
Pros
Customization: The greatest advantage of a DIY project is the ability to tailor it to your cat's preferences and the available space. You can add personalized touches, like your cat's favorite toys or perches at the perfect height for bird-watching.
Cost-effective: Depending on your design and the materials you use, a DIY enclosure can be more affordable than purchased options.
Cons
Time-consuming: Building an outdoor cat enclosure requires time and effort. You'll need to plan, gather materials, and construct the structure, which can be a lengthy process.
Potential safety issues: Without professional knowledge or experience, there's a risk of overlooking safety hazards, such as unstable structures, sharp edges, or inappropriate materials.
Aesthetics: While some DIY enclosures can look fantastic, others may not achieve the aesthetic appeal of professionally designed models.
DIY outdoor cat enclosures can be a fun and rewarding project for those who are up for the task. They offer room for creativity and can be a cost-effective solution. However, ensure you have the necessary skills and time before embarking on this project. Safety and comfort should always be the top priorities in any cat enclosure.
---
Conclusion
In this comprehensive guide, we delved deep into the world of outdoor cat enclosures and outdoor catios, unraveling their importance, considerations before buying, and the various types available. We demystified the process of buying the best outdoor cat enclosures and provided answers to the most frequently asked questions on this topic. Further, we explored the care and maintenance of these structures and even ventured into the realm of DIY enclosures.
Outdoor cat enclosures offer a perfect blend of safety and freedom for your feline friends. They are instrumental in enhancing your cat's quality of life by providing a secure environment to explore and play while protecting them from potential dangers.
Before you choose an enclosure, remember to consider its size, material, security features, and the lifestyle of your cat. We explored the different types of outdoor cat enclosures – from window-attached enclosures, large enclosures, portable enclosures to outdoor catios, and cat tunnels. Each comes with unique features and benefits tailored to specific needs and preferences.
Whether you choose to buy a professionally made enclosure or embark on a DIY project, what matters most is that your cat feels comfortable, secure, and happy in their new outdoor space.
In the year 2023, the options for the best outdoor cat enclosures are more diverse and sophisticated than ever. It's a great time to provide your feline friend with the gift of an exciting, safe, and stimulating environment.
This guide is just the beginning of your journey towards providing the best for your feline friend. Check out more related content on our blog to deepen your understanding and make informed decisions. Always remember, your cat's happiness and safety are paramount, and the perfect outdoor enclosure is a significant step towards achieving that. Happy shopping!
Outdoor Cat Enclosures FAQs
As a cat owner considering an outdoor cat enclosure, you might have several questions. Here, we aim to address some frequently asked queries.
Can cats live in an outdoor enclosure?
Indeed, cats can enjoy outdoor enclosures, designed to offer safe outdoor access for fresh air, sunlight, and surroundings observation. However, these aren't a full substitute for indoor living. Cats should still freely access their indoor home for food, water, and litter box needs. During severe weather, the necessity to bring cats indoors for their safety is paramount.
Is it cruel to keep cats in an enclosure?
Absolutely not. Outdoor cat enclosures are conceived to ensure feline safety whilst enabling outdoor enjoyment. They shield cats from potential hazards, including traffic, predators, or altercations with other fauna. The enclosure must be spacious for free movement and equipped with toys, climbing features, fostering physical activity and mental engagement, enriching their overall outdoor experience.
How big should an outdoor cat enclosure be?
The size of your cat's outdoor enclosure hinges on available space, budget, and the number of feline inhabitants. Bigger enclosures foster greater movement and play, contributing positively to your cat's physical health. Yet, smaller enclosures, with careful setup involving climbing structures, toys, and captivating outdoor views, can still offer ample stimulation.
Can I build my own outdoor cat enclosure?
Yes, many cat owners choose to build their own outdoor cat enclosures or catios. This can be a cost-effective option, and it allows you to customize the enclosure to your cat's specific needs and preferences. However, it's important to ensure the enclosure is safe, secure, and built from cat-friendly materials.
What should I put in an outdoor cat enclosure?
In addition to toys and climbing structures, consider including a shaded area where your cat can escape from the sun, a comfortable place to sleep, and a water source for hydration. Remember, the goal is to create a stimulating and comfortable environment that your cat will enjoy.