As cat parents, we know that our feline companions have an unpredictable streak, particularly when it comes to their outdoor adventures. One moment they're lounging on the windowsill, the next, they're off exploring, leaving us anxious and concerned. This is where the Apple AirTag for cats comes into play.
A significant body of research reveals that 37% of our lost feline friends are actually indoor-only pets. Furthermore, it is not uncommon for collarless cats roaming freely to be fed by kindly strangers, which paradoxically reduces the likelihood of these cats returning to their true homes.
Picture this: your tabby, the neighborhood explorer, is off on her twilight jaunt. You're at home, wondering if she's safe or if she's decided to sample the local seafood joint's fare. Just as you're about to worry, a glance at your iPhone, and you're relieved. The AirTag, attached to her collar, lets you see her last known location. This tiny device is turning into a must-have for cat owners everywhere, serving as a digital tracking system for our furry friends.
In this blog post, we explore the ins and outs of using an AirTag for cats. We'll demystify how this technology works, discuss its safety aspects, compare it with traditional GPS trackers, and share some real-life stories. By the end, you'll know if Apple's AirTag is the right tracking choice for your cat.
So, ready to delve into the world of AirTag for cats? Let's embark on this fascinating journey together!
What is an Apple AirTag?
An Apple AirTag is a small, disc-like device engineered to help keep track of and find your personal items. Its clever design and advanced technology make it an impressive tool in the Apple ecosystem. And now, it has extended its purpose beyond keys and wallets; it's serving as a tracking device for our furry friends too.
| Specifications | Details |
| --- | --- |
| Size and Weight | Diameter: 1.26 inches (31.9 mm), Height: 0.31 inch (8.0 mm), Weight: 0.39 ounce (11 grams) |
| Connectivity | Bluetooth for proximity finding, Apple-designed U1 chip for Ultra Wideband and Precision Finding |
| Speaker | Built-in speaker for sound location |
| Battery and Battery Life | User-replaceable CR2032 coin cell battery, Over 1 year with everyday use |
| Water and Dust Resistance | Rated IP67 under IEC standard 60529 (maximum depth of 1 meter up to 30 minutes) |
| Compatibility | iPhone and iPod touch models with iOS 14.5 or later, iPad models with iPadOS 14.5 or later |
| Range | Not specified by Apple; depends on local conditions and density of Apple's Find My network |
Unraveling the Mysteries of the AirTag
The question you might have is: What makes Airtag so unique and how does it work? Let's peel back the layers of this compact device and unravel its mysteries.
At its core, the AirTag is equipped with Apple's custom-designed U1 chip that utilizes Ultra-Wideband technology. This tech allows the device to precisely determine the distance and direction to an Airtag. In a nutshell, it uses sound waves that our ears can't hear to create an accurate spatial map.
The Airtag communicates via Bluetooth and integrates seamlessly with the "Find My" app on your iPhone. If you were to misplace an item tagged with an Airtag (or in our case, if Whiskers decides to go on another diplomatic mission), you could use the Find My app to locate it with incredible accuracy.
What's more, if your cat has a penchant for playing hide-and-seek and is within a short range, the "Precision Finding" feature kicks in. This feature uses a combination of sound, haptic feedback, and visual directions to guide you to your elusive furball.
In the spirit of inclusivity, AirTags are not just for iPhone users. While some features are exclusive to the Apple family, anyone with a smartphone equipped with NFC can tap an Airtag to see a message with contact information (if the owner of the Airtag chooses to share it). So, if Whiskers gets a little too adventurous and ends up being found by a kind stranger, they can easily get in touch with you.
In essence, the Apple Airtag is a remarkable piece of technology that keeps your belongings (and cats) within reach, no matter where they try to hide.
---
Airtag: Not Just for Keys Anymore
In the labyrinth of urban life and the vast expanse of countryside, keeping track of our furry companions can be quite the challenge. Enter Airtag, a device originally conceived to help locate misplaced keys, wallets, or bags, but now proving itself valuable in the pet domain as well.
Can I use Airtag for My Cat?
A quick disclaimer: Apple has not officially recommended using Airtags as pet trackers. However, this hasn't deterred many pet owners from using them for this purpose. Let's uncover the potential uses of AirTags for cats.
As we've established, AirTags use Apple's advanced tracking technology to provide pinpoint accuracy when locating tagged items. By attaching an AirTag to your cat's collar, you'll be able to utilize this technology to keep an eye on your cat's location. This could prove especially helpful if you have a particularly adventurous cat who likes to test the boundaries of your garden or house.
Imagine this: Your furry friend decides to sneak out for a midnight adventure. Instead of fretting and calling out into the darkness, you simply pick up your iPhone, open the Find My app, and track their precise location. You might even catch them red-pawed, having a secret rendezvous with the neighborhood's mice delegation!
Not only does the AirTag allow you to track your cat's location, but it also offers the functionality of "Lost Mode." In this mode, if your feline friend gets a little too exploratory and is found by a kind-hearted stranger, they can tap the AirTag (even with an Android phone) to view any contact information you've chosen to share, making the reunion process more seamless.
---
A Closer Look at the AirTag: Size, Dimensions, and Durability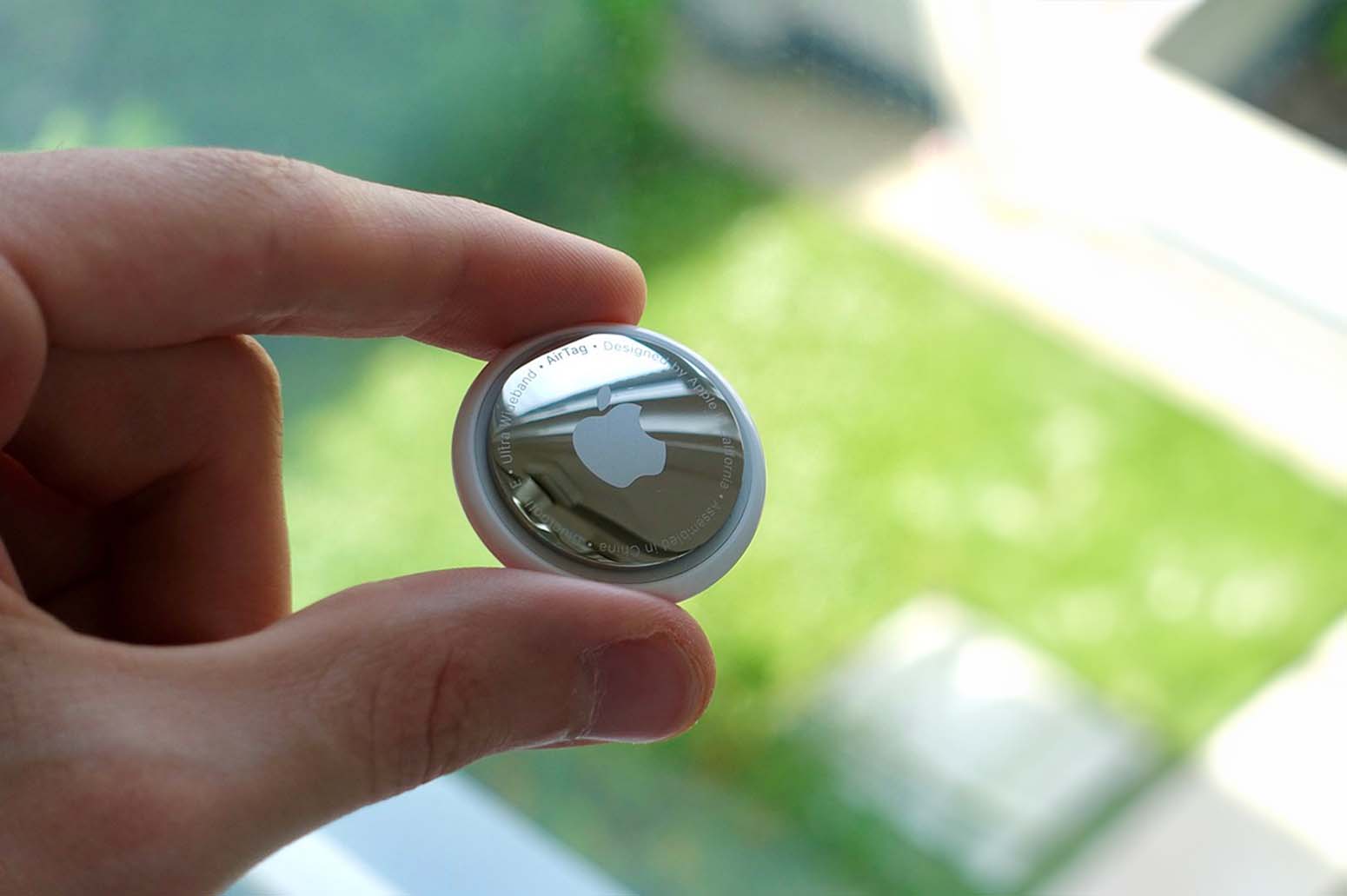 AirTag's impressive technology and capabilities sound all well and good, but can your furry friend comfortably carry this device around? Let's assess the AirTag from a physical perspective, focusing on size, dimensions, and durability.
The AirTag is compact, about the size of a bottle cap, with a diameter of 1.26 inches (32 mm) and a thickness of 0.31 inches (8 mm). It weighs a mere 0.39 ounces (11 grams), which is lighter than most collar-mounted pet trackers on the market. This small and lightweight design means that it's unlikely to be cumbersome or uncomfortable for most adult cats.
However, if your feline companion is a kitten or a petite breed, you might want to consider if the AirTag could be too heavy or large. Always prioritize your cat's comfort and safety over tracking capabilities.
The design of the AirTag is also remarkably durable. It boasts a water and dust resistance rating of IP67. In layman's terms, this means that the AirTag can survive being submerged in water up to 1 meter for 30 minutes. So, if your cat decides to take an unexpected dip in a pond or gets caught in the rain, the Airtag should continue functioning as normal. Of course, we wouldn't recommend putting this feature to the test intentionally!
AirTag's battery life is another factor that makes it a strong contender for use with pets. Each AirTag is powered by a CR2032 coin cell battery, which is user-replaceable and offers over a year's worth of battery life. When it's time to replace the battery, you can do so easily and cost-effectively without needing to replace the whole device.
However, attaching an AirTag to your cat's collar isn't as straightforward as it may seem, due to its design lacking a built-in loop or hole. This means you'll likely need to invest in an AirTag holder that can attach to your cat's collar. There's a growing market of AirTag accessories, including some specifically designed for pet collars.
In the following sections, we'll dive deeper into the practical application of AirTags with cats, addressing issues like the need for a proper cat collar attachment for AirTag, and how real-time location tracking works in practice.
---
Essential AirTag Accessories for Cats
Introducing your cat to the wonderful world of AirTags wouldn't be possible without the right accessories. So, let's talk about collars and holders. Here, our focus is finding the perfect marriage of comfort, safety, and functionality.
This guide's recommendations result from our expert team's thorough research, including user reviews, product specifications, and firsthand experiences. This rigorous process guarantees our reviews' authenticity, guiding you to make informed decisions. Our reviews remain unbiased and credible; however, please note that we may earn an affiliate commission for purchases made through our links.
Cat Collars and AirTag Holders
An AirTag on its own is a smooth, disc-like device without any clear way to attach it to a collar. To securely affix it to your cat's collar, you're going to need an AirTag holder. This is an accessory that essentially works like a little case for the Airtag, with a loop or hook that lets it attach to a collar.
Now, here's the thing. If you've ever spent hours on end watching cat videos on the internet (no judgment, we've all been there), you know that cats are masters of squeezing into and out of tight places. That means that whatever AirTag holder you choose has to be secure enough to keep the AirTag in place, even in the face of your cat's shenanigans.
While you can find a variety of AirTag holders online, the ones made from silicone or soft plastic tend to be comfortable for cats and durable enough to withstand their outdoor explorations. They come in various colors, so you can coordinate with your cat's collar or choose a color that stands out.
Speaking of collars, when choosing one for your cat, look for those with a breakaway feature. Breakaway collars are designed to unsnap when pulled with sufficient force, preventing your cat from getting strangled or stuck if the collar catches onto something.
Venturing into the realm of the Dgerp AirTag Cat Collar, the first thing you notice is its thoughtful design. Made specifically to accommodate an Apple Airtag, this collar is a breakthrough for cat parents desiring to keep a tab on their feline companions. The attached silicone Airtag holder snugly safeguards your Airtag, eliminating the worry of it dropping off during your cat's spontaneous adventures.
The breakaway buckle is another feature worth mentioning. It's an essential safety feature, especially for cats that love to explore the outdoors. It's designed to break free if your cat gets caught or trapped, reducing the risk of injury. The collar's reflective strips amplify visibility at night, adding an extra layer of safety.
Lastly, the collar's construction takes into account your cat's comfort. Made of reflective nylon, the collar is both fur-friendly and non-irritating to the skin. It's also lightweight and adjustable, accommodating a variety of neck sizes without causing discomfort to your cat. As for cleanliness, the waterproof Airtag holder is easy to clean, ensuring it stays pristine even in outdoor environments.
| Pros | Cons |
| --- | --- |
| Specifically designed for AirTag | Bell might be too loud for some |
| Breakaway buckle for safety | |
| Reflective strips for night visibility | |
| Comfortable and adjustable fit | |
| Easy-to-clean waterproof Airtag holder | |
Real-Life User Reviews and Testimonials:
Looking at user testimonials, the collar has received accolades for its durability, safety features, and the added convenience of the Airtag holder. A common theme among users is the peace of mind this product offers, especially for those with indoor/outdoor cats. However, some users did mention the loudness of the bell as a minor annoyance.
Conclusion: The Dgerp Airtag Cat Collar with its distinct features and user-friendly design certainly stands out from other cat collars in the market. It brings an innovative solution to cat tracking, successfully combining functionality, safety, and comfort. This collar, undoubtedly, caters to the unique needs of both cat owners and their adventurous feline companions.
---
The FEEYAR AirTag Cat Collar is an innovative device that blends style, safety, and functionality. A perfect mix of nylon and TPV, this integrated Airtag cat collar is designed to protect your furry friend without compromising comfort. The collar is available in two sizes, making it a versatile choice for kittens and cats alike. It's also equipped with a reflective strip for increased visibility at night, adding an extra layer of security for your pet.
The collar's standout feature is the integrated Airtag holder, a unique design that's much better than separate Airtag cases. It prevents the Airtag from falling off or dangling, ensuring the tracker is always securely attached to your cat. This makes locating your pet a breeze, especially when paired with the Apple Airtag's precision tracking capabilities. The collar is also fitted with an anti-suffocation elastic band, a safety feature designed to protect your cat from potential harm if the collar gets snagged.
An often-overlooked aspect of cat collars is the material, but with FEEYAR, this is a high point. The collar is made from skin-friendly nylon that breathes well and won't irritate your cat's skin or cause allergies. Combined with its lightweight construction, it's clear that the FEEYAR AirTag cat collar is designed with a strong focus on your cat's comfort.
| Pros | Cons |
| --- | --- |
| Designed for a perfect fit with Apple AirTag | Material might fray over time |
| Elastic band for safety | |
| Comfortable, skin-friendly material | |
| Reflective strip for night visibility | |
Real-Life User Reviews and Testimonials:
Customer testimonials highlight the collar's effectiveness in keeping track of outdoor and indoor cats. Users have particularly noted the comfort and secure fit of the collar, alongside the convenience offered by the integrated AirTag holder. However, some users pointed out that the material tends to fray over time, indicating potential durability issues.
Conclusion: The FEEYAR AirTag Cat Collar is a brilliant blend of technology and practical design. Its innovative features like the integrated Airtag holder and safety elastic band set it apart from other cat collars on the market. Despite minor durability concerns, its benefits clearly outweigh any drawbacks, making it an excellent investment for your furry friend's safety.
---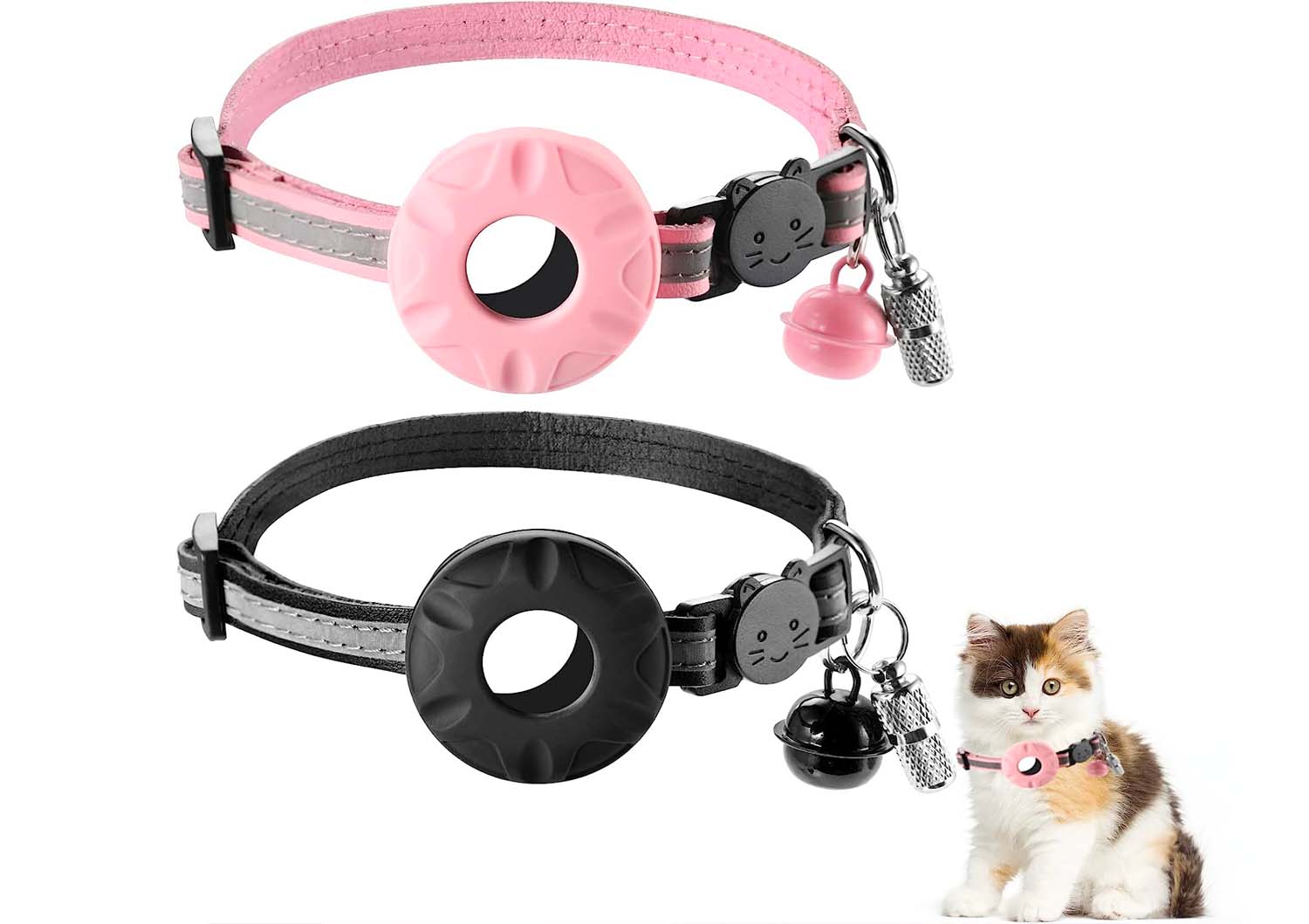 The Leather Airtag Cat Collar by OUTXE is a smart blend of aesthetics and utility. Fitted with a silicone Airtag holder, it ensures a real-time tracking option for your cat right at your fingertips. Made from genuine leather, this Airtag cat collar outshines the more traditional nylon cat collars in durability while offering superior comfort to your feline friend. With its adjustable length ranging from 8.66 to 13.78 inches, it caters to both boy and girl cats, rendering it an excellent choice for cat owners.
Reflective strips, sewn right into the design, makes locating your pet in the dark a simple task and significantly reduces the risk of accidents. The safety aspect of the Airtag cat collar is further enhanced by the safe breakaway feature designed to prevent choking, ensuring that your pet is never at risk.
A unique feature of this Airtag cat collar is the waterproof ID tag. This added layer of protection is fantastic, allowing you to inscribe your details to increase the chances of retrieving your cat in case of accidental loss. Moreover, the collar comes with a detachable bell, a thoughtful addition to safeguard the neighborhood birds from your prowling pet.
| Pros | Cons |
| --- | --- |
| Genuine leather material for comfort | Leather may require additional maintenance |
| Reflective strip for night safety | |
| Adjustable length fits most cats | |
| Waterproof ID tag for added security | |
Real-Life User Reviews and Testimonials:
Real-life user reviews are largely positive, with many appreciating the real-time tracking facilitated by the Airtag holder. The adjustable length and the peace of mind it brings have also garnered favorable responses. On the downside, the bell attached to the collar, while beneficial for bird safety, may not be well-received by all cats.
Conclusion: The OUTXE Leather Airtag Cat Collar with its user-centric design, unique safety features, and durable construction, sets a new benchmark in the pet product market. Its unparalleled tracking capabilities make it a must-have for all cat owners, offering peace of mind and enhanced safety for their beloved pets.
---
Whether you are an anxious pet owner or just a fan of tech gadgets, the THXSBUDDY AirTag Holder for Cat Collar deserves your attention. The holder is designed to snugly accommodate an Apple AirTag, ensuring that it remains securely attached to your pet's collar as they explore their environment. Made of high-quality, washable silicone, this holder protects the AirTag from scratches, shakes, and drops, effectively increasing the lifespan of your tracking device.
Designed with your pet's comfort in mind, this AirTag Holder for Cat Collar boasts a unique, compact design. Its small size, coupled with the softness of silicone, ensures that your cat can go about their day without any discomfort or interference. Moreover, it fits any collar within a width of 5/8 inches, adding versatility to its list of pros.
An additional feature that separates this product from its competitors is its inclusion of an Airtag protector. This adds an extra layer of safety, reassuring you that the AirTag is doubly secure. The holder and the protector work together to provide 360° protection for the AirTag on your pet's collar.
| Pros | Cons |
| --- | --- |
| Durable and pet-friendly material | Limited to collars within 5/8 inch width |
| Easy to install and comfortable for pets | |
| Offers additional Airtag protection | |
| Waterproof ID tag for added security | |
Real-Life User Reviews and Testimonials:
User reviews speak volumes about the THXSBUDDY AirTag Holder for Cat Collar's reliability and convenience. Many users note the robust and lightweight nature of the holder, which neither bothers their cats nor interferes with their movements. Users also praise the product for providing an additional layer of safety, giving them peace of mind knowing their furry friends are secure. However, some note that the Airtag protection stickers included do not adhere well due to the AirTag's rounded design.
Conclusion: The THXSBUDDY AirTag Holder for Cat Collar emerges as an excellent accessory for any pet owner. It successfully combines practicality, durability, and comfort, making it an invaluable addition to your cat's collar. For those who already own an Airtag or wish to maintain their existing collar, this holder proves to be a beneficial purchase.
Lastly, keep in mind that any AirTag holder you choose should not interfere with the breakaway mechanism of the collar. The AirTag holder's design should allow the collar to snap open under pressure even when the AirTag and its holder are attached.
Remember, the most important thing is your cat's comfort and safety. An irritated cat might try to remove an uncomfortable collar or holder, increasing the risk of losing both the collar and the AirTag. So, take your time to choose the right accessories, and be prepared for a bit of trial and error.
In the next part of our journey into the world of AirTags for cats, we'll delve into the nitty-gritty of setting up an AirTag for your feline friend. Spoiler alert: it's as easy as pie, even if you're not exactly a tech whiz!
---
How Does Airtag Work with Cats?
Cats have an incredible knack for seeking out the coziest and most unusual hideaways. So, the idea of using an AirTag to keep tabs on your feline friend sounds like a solid plan. But, how does it actually work? Let's take a look.
Understanding the 'Find My' App
The central element that allows you to use an AirTag with your cat is Apple's 'Find My' app. This application is available on all modern Apple devices and can track any Apple device or AirTag associated with your Apple ID.
Once your cat's AirTag is set up and connected to the 'Find My' app on your iPhone or iPad, you can view its current or last known location on a map. You can even set notifications to alert you when your cat leaves or arrives at specific locations, thanks to a feature called geofencing. All these features make it easy to keep an eye on your furry explorer, even if you aren't physically with them.
It's also worth mentioning that the 'Find My' network extends beyond just your devices. Millions of Apple devices worldwide form a crowd-sourced network that can help locate a missing AirTag, all while maintaining end-to-end encryption for your privacy.
The Range and Accuracy of AirTag Location Services
This brings us to a critical question: just how far can an AirTag track? Well, that's where things get a bit interesting.
AirTags use Bluetooth Low Energy (BLE) technology to communicate with nearby Apple devices. This tech can theoretically cover a distance of up to 100 meters without obstruction. However, real-world conditions, like walls and other obstacles, can significantly reduce this range.
If your cat is within this Bluetooth range, you can use the 'Find My' app's "Play Sound" feature to make the AirTag emit a sound, helping you locate your cat if they are hiding nearby. If you have an iPhone 11 or newer, you can also use the 'Precision Finding' feature, which uses a combination of camera input, ARKit, accelerometer, and gyroscope to guide you to your AirTag with more accuracy.
But what if your cat is further away? Once an AirTag is out of your device's Bluetooth range, it sends out a secure Bluetooth signal that can be detected by other Apple devices in the 'Find My' network. When any of these devices pick up this signal, they send your device the AirTag's location. This allows you to track your cat's location even if they wander out of your immediate vicinity.
Inclusivity through Accessibility Features
Another remarkable aspect of using the 'Find My' app is its compatibility with various iPhone accessibility features. These can be invaluable aids for visually impaired or differently-abled pet owners.
The 'Find My' app supports VoiceOver, which can describe what's happening on your screen, as well as Invert Colors and Larger Text options for better visibility. It even works with braille displays, ensuring that even visually impaired individuals can keep tabs on their feline friends.
This thoughtful integration of accessibility features highlights how Apple has considered a wide range of users in the design of the 'Find My' app, making tracking your cat with an AirTag an inclusive experience.
Now, back to our discussion on tracking with the AirTag. While it might seem like the AirTag offers unlimited tracking capabilities, it's essential to keep in mind that its effectiveness relies heavily on the density of Apple devices in the area. In a bustling city with many Apple devices around, the chances of quickly locating a wandering kitty are quite high. In more rural or isolated areas, where Apple devices might be few and far between, tracking might prove to be more challenging.
In the following sections, we'll explore the safety and reliability of using AirTags to track cats, share some practical tips for integrating AirTags into your feline care routine, and consider some alternative solutions in case the AirTag doesn't completely satisfy your needs.
---
Is It Safe to Use AirTag on Pets?
When considering attaching an AirTag to your cat's collar, the question of safety naturally pops up. Will the Airtag be comfortable for my cat? Will it affect their health? Let's look at some of the potential concerns and benefits to weigh the pros and cons.
Weighing the Pros and Cons
The most significant advantage of using an AirTag for your cat is, of course, the peace of mind it can bring. Knowing you have a reliable way to track your cat if they decide to embark on an impromptu adventure could significantly reduce your worry.
An AirTag is lightweight (just 11 grams) and compact (31.9mm in diameter and 8mm in thickness), so it's not likely to interfere with your cat's regular movement or be overly cumbersome. It's also water and dust resistant (rated IP67), meaning it should hold up to all the climbing, exploring, and occasional puddle-jumping your cat gets up to.
However, it's crucial to ensure that the AirTag and its holder don't pose a choking hazard or risk of entanglement. It would be best to use a holder designed to attach securely to a cat's collar and has a breakaway mechanism to ensure the cat's safety if the collar gets snagged.
Now, let's talk about radiation. AirTags use Bluetooth Low Energy (BLE) technology to communicate with Apple devices. The radiation emitted by BLE devices is considered non-ionizing, which means it doesn't damage the DNA inside cells, as X-rays, ultraviolet light, and other types of higher-frequency radiation can. In fact, BLE devices emit less radiation than your everyday smartphone.
That said, AirTags are not specifically designed for use with pets, and Apple has not provided guidelines on their use with animals. Thus, while many people have found them useful for tracking their pets, others have concerns.
It's always a good idea to discuss any concerns with your vet before attaching an AirTag to your cat's collar. They can provide you with the best advice tailored to your cat's health and well-being.
In the next section, we'll discuss how to set up an AirTag for your cat, including how to attach it to their collar securely. Remember, while technology can help us keep our pets safe, it's not a replacement for responsible pet ownership and supervision.
---
Setting Up Your Cat's AirTag: A Step-by-step Guide
Okay, hold on to your seats! We're about to embark on a tech journey together, navigating the path of setting up an AirTag for your furball. Rest assured, even if the word "tech" sends a shiver down your spine, I've got you covered. Let's take it step by step.
Step One: Unboxing: Crack open that sleek Apple packaging and get your AirTag out. You'll see it's quite a compact and nifty little gadget, about the size of a bottle cap.
Step Two: Turn on Your iPhone: Your iPhone is going to play a crucial role in this setup. Whip it out and make sure Bluetooth is turned on. You should also enable the 'Find My' function if you haven't done so already. It's under your iPhone's settings.
Step Three: Wake up Your AirTag: Now, peel off the plastic tab on the AirTag. You'll hear a pleasant chiming sound. That's your AirTag saying "Hello, ready when you are!"
Step Four: Pairing Time: Place your AirTag close to your iPhone. A pop-up message will appear on your screen. This is Apple's U1 chip doing its magic. Follow the instructions on the screen to pair your AirTag with your iPhone.
Step Five: Name Your AirTag: Now, you'll need to give your AirTag a name. Yes, it's like naming a pet, only in this case, the pet helps you keep track of your actual pet. How meta! Apple will give you some standard options, like "Keys" or "Wallet." But since we're setting up this AirTag for your cat, you could name it after your feline friend, or something that's easy to remember, like "Fluffy's AirTag."
Step Six: Register Your AirTag: You'll need to register the AirTag with your Apple ID. This is important as it allows you to use the 'Find My' network to track your cat if they decide to go on a solo adventure.
Step Seven: Final ConfirmationA final screen will confirm all your settings, including the name of your AirTag, its linked Apple ID, and your current location. If everything looks good, tap 'Done,' and voila! Your Airtag is ready for action!
Step Eight: Attach the AirTag to Your Cat's CollarNow, use the AirTag holder we talked about earlier to secure the AirTag to your cat's collar. Ensure it's secure but not too tight to discomfort your kitty.
And there you have it! Now your furball has joined the high-tech era with their very own AirTag. Remember, the 'Find My' app on your iPhone is your best friend when it comes to tracking your cat's whereabouts. It'll show you the location of your AirTag (and, by extension, your cat) on a map, so you can keep an eye on their adventures.
---
Does Airtag Replace GPS Trackers?
Alright, now that we have established that the AirTag isn't an alien device from the future and you've mastered the art of setting one up for your cat, you may be pondering a question. And, if you're not, well, I'm going to bring it up anyway: does AirTag replace cat GPS trackers? Hold onto your catnip, folks! We're going in.
AirTag vs. GPS: What's the Difference?
Let's take a stroll down technology lane and explore the basic difference between these two tracking systems. GPS, or Global Positioning System, relies on satellites circling our lovely Earth, helping devices pinpoint their geographic location. On the other hand, AirTags make use of Bluetooth and Apple's crowd-sourced 'Find My' network to locate lost items (or cats).
Now, you might think, "Well, satellites sound way cooler than some random Apple users!" True, satellites are awesome (and the view must be incredible), but there's a hitch. Traditional GPS trackers tend to be larger (not ideal for our feline companions), consume more power (more frequent battery replacements), and require a monthly subscription for the service (a drain on your wallet).
On the flip side, AirTags are smaller, sleeker, and work seamlessly within the Apple ecosystem without any ongoing subscription fees. And the 'Find My' network? It's massive, with millions of Apple devices worldwide forming an extensive search party for your cat, should they decide to explore unknown territories.
However, the AirTag does have its limitations. Unlike a GPS tracker, it doesn't provide real-time tracking or the exact coordinates of its location, which can be a bummer if you're a fan of spy movies or want a precise cat movement log.
| Features | AirTag | GPS Tracker |
| --- | --- | --- |
| Size | Smaller, more comfortable for pets | Larger, may be uncomfortable for small pets |
| Technology | Bluetooth and Apple's crowd-sourced 'Find My' network | Satellite technology |
| Subscription Fees | No | Yes, for tracking services |
| Battery Life | Up to a year | Varies, typically shorter due to higher power consumption |
| Replacement Cost | One-time purchase, battery replaceable | Depends on subscription plan and battery replacement |
| Tracking | Not real-time, dependent on nearby Apple devices | Real-time with specific location |
| Range | Unlimited, as long as there are nearby Apple devices | Limited by GPS coverage |
| Network | Millions of Apple devices worldwide | Satellite network |
| Location History | No | Yes, on some models |
| Precision Finding | Yes (with iPhone 11 and later) | No |
| Accessibility Features | Yes (with 'Find My' app) | Varies |
Please note that while this table provides a general comparison between the two types of trackers, specific models of GPS trackers may have different features, and it's always a good idea to research the particular model you're interested in.
Real-life Stories: Cats, AirTags, and the Great Outdoors
Now, let's spice things up with some real-life cat tales. Ever heard of Whiskers, the tabby from down the street who turned out to be a master escape artist? She would often give her human a slip and go on solo adventures around the neighborhood. Then one day, her human had a brilliant idea and attached an Airtag to her collar.
One evening, Whiskers decided to wander off again, but this time, her human was prepared. Using the 'Find My' app, he managed to trace Whiskers to a local fish market several blocks away, indulging in a seafood feast. Whiskers' secret foodie life was finally exposed, thanks to the Airtag!
And then there's the story of Mr. Fluffington, a majestic Persian cat with a penchant for climbing trees. After a heart-stopping incident where he got stuck on a towering oak, his human decided to equip him with an Airtag. The next time Mr. Fluffington embarked on a climbing spree, his human was able to find him swiftly and call in the local fire department to rescue the adventurous feline.
In both these cases, the AirTag provided a sense of security and peace of mind to the cat owners, proving its worth as a pet tracking device. It may not have the advanced features of a dedicated GPS tracker, but it's definitely a worthy addition to a pet owner's toolkit.
In this engaging video, Hidden Spring Farm owners Chad & Remy Smith share their real-life experience with Apple AirTags for pet tracking. After their barn cat went missing, they equipped all their barn cats with AirTags. The video walks you through the process of setting up, installing, and using AirTags on pets, providing insights into their usefulness for tracking your feline friends.
In the next section, we'll talk about the battery life of an Airtag and what to do when it runs out. Trust me; it's going to be electrifying!
---
The Longevity of an Airtag: Battery Life and Beyond
Now that we've covered how Apple Airtags work and their applications in cat-tracking, we arrive at the question that keeps you up at night: "Just how long do these things last?" Rest assured, dear reader, the answer will not only help you sleep but may even inspire you to become a long-term Apple AirTag user.
If you've ever wished for a pet tracker with a long-lasting battery life, you're in for a treat!
How Long Does an AirTag Battery Last?
Apple AirTags use a standard CR2032 coin cell battery that you can purchase at any convenience store. Now, hold on to your cat's favorite toy, because this small but mighty device boasts a battery life of approximately one year! Yes, you read that right. With an AirTag, you won't have to worry about your cat's tracking device dying at an inopportune moment during one of their mysterious escapades.
How does Apple achieve this remarkable battery life? AirTags use Bluetooth Low Energy (BLE) technology to communicate with other devices. As the name suggests, BLE is designed for short bursts of connectivity, which consumes significantly less power than traditional Bluetooth.
How to Replace the AirTag Battery
When the AirTag battery begins to run low, your iPhone will kindly inform you it's time for a battery swap. Fear not, replacing the battery is as easy as opening a can of your cat's favorite food. Here's a quick guide:
Press down on the silver battery cover of the AirTag and twist it counterclockwise. It will open up like a tiny spaceship (minus the aliens).
Remove the old battery, bid it a fond farewell, and replace it with a fresh CR2032 battery.
Place the battery with the '+' sign facing up.
Reattach the cover by placing it on top of the AirTag and twisting it clockwise until it locks into place.
And voila! Your AirTag is re-energized and ready to accompany your cat on their next adventure.
In the grand scheme of cat tracking, AirTag's excellent battery life is another feather in its cap (or should we say, another bell on its collar?).
---
Expert Opinions: Vets and Tech Experts Weigh In on AirTag for Cats
In the vast cosmos of cat tracking, opinions are as plentiful as cat memes on the internet. Therefore, it's crucial to hear from the ones who understand our feline friends the best, and from those who can dissect Apple AirTag's tech nuances with precision. So let's turn our attention to the real experts: vets and tech gurus.
The Veterinarians' Viewpoint
Many vets have commented on the topic of AirTag for cats during interviews, podcasts, or articles. Most agree that the device itself is safe to use, as long as it is attached to a proper "breakaway" collar designed for cats. These collars have a safety feature that allows the collar to snap open if it gets caught on something, preventing potential choking or strangulation hazards.
A consistent piece of advice from the veterinary community is to maintain regular check-ups for your pet. This ensures their general health and wellness and allows for early detection of any potential discomfort or skin issues that might result from wearing a collar or tag.
However, it is important to note that vets emphasize AirTags and similar devices should not replace proper cat care and safety measures. Keeping your cat indoors or providing a secure outdoor enclosure, for instance, are effective ways to prevent your pet from getting lost in the first place.
The Tech Experts' Angle
Tech experts also have plenty to say about using Apple AirTag for cats. They tend to focus on the technological aspects, highlighting the innovative 'Find My' network's vast reach, Bluetooth technology, and impressive battery life.
Tech gurus often laud the device's user-friendly nature, pointing out that setting up and using an AirTag is remarkably straightforward – even for those who don't consider themselves particularly tech-savvy. They also appreciate the easy battery replacement and the fact that it uses a commonly available battery type.
However, tech experts remind users that AirTag is not a GPS device and does not provide real-time tracking, features typically present in specialized pet trackers. They also caution about potential privacy issues and the necessity for the cat owner to have an iOS device for the AirTag to work.
In conclusion, while Apple AirTag might not have been designed specifically as a pet tracker, it seems both vets and tech experts agree that it has potential utility in this area. However, it's not without its limitations and should be used as a part of a broader approach to pet safety and care.
Always consider your unique circumstances and discuss these options with your vet or a pet care advisor. Making the best decision for your feline friend involves weighing all the options. Whether you use an Apple AirTag or choose a different tracking method, the main goal remains: ensuring the safety and happiness of our whiskered wanderers!
---
Conclusion: Is AirTag the Right Choice for Your Cat?
From tracking technology to safety features, from expert opinions to heartwarming tales of cat escapades, we've embarked on quite a journey through the realm of AirTags for cats. It's clear that this small device, originally designed to keep track of items like keys, has transcended its primary function and found a niche within the pet-owning community.
Now, don't get me wrong, the AirTag is a nifty little device! With its adaptable tech, impressive reach, and an interface as smooth as your cat's purr, it can be a dream come true for many pet parents seeking a bit of extra assurance. But, let's not pop the champagne just yet! It's no magic wand. It has its quirks, and it certainly doesn't come with a 'problem solved' guarantee. Think of it as an added layer of precaution, an extra set of eyes. It's no substitute for good ol' responsible pet parenting.
So, what's the takeaway? Apple's AirTag has the potential to be a handy tool in your kit of cat care essentials. But remember, just as each cat has a personality as distinct as its coat pattern, what works for one might not work for another. Take the time to understand your furry friend, consult your vet, and make an informed choice. Our whiskered pals deserve the best we can offer!
We'd love to hear about your experiences! If you've used an AirTag to track your cat's adventures, drop a comment below and share your story. Your insights could be a beacon of guidance for other cat owners navigating the intriguing yet sometimes puzzling world of pet tracking technology. Remember, every shared experience enriches our collective understanding and brings us closer as a community of cat enthusiasts!
Keep exploring, stay curious, and watch this space for more engaging content on all things cats!
FAQ: Answering Your Burning Questions About AirTag for Cats
Can the AirTag Holder Cause Any Discomfort to My Cat?
The AirTag holder for cat collars is made from pet-friendly materials and designed to be small and lightweight to ensure your cat's comfort. It won't interfere with their movement and should not cause any discomfort when worn correctly. However, as with any new item, it's important to monitor your cat's behavior after first attaching the holder to ensure they're comfortable.
Can an AirTag fit any size of cat collar?
AirTag holders are typically designed for standard cat collar sizes. However, it's crucial to cross-verify the dimensions of the AirTag holder with your cat's collar width. Not every holder will accommodate particularly wide or unconventional collars, hence double-checking measurements is always recommended before purchase.
How noticeable is an AirTag on a cat collar to the cat?
AirTags are quite small and lightweight, and when combined with a lightweight holder like the one reviewed, the additional weight and bulk should be barely noticeable to most cats. However, as with any new accessory, some cats might need a short adjustment period.
Does the AirTag emit any sound that might disturb my cat?
AirTags can play a sound to help you locate them, but this feature is controlled manually through the Find My app. If not activated, the AirTag will remain silent, not producing any noise that could disturb your cat.
Can the AirTag tracking affect my cat's behavior?
The AirTag itself should not affect your cat's behavior as it does not emit any substances or continuous sound. However, some cats might initially be curious or wary of the new accessory on their collar, but they typically adjust quickly.