The story goes that curiosity killed the cat, but maybe the cat was simply bored. Could you imagine a world where your toys didn't fly, flip, flutter, or at least move on their own? Exactly, utterly unimaginable! If cats could talk, they'd probably be saying something like, "Human, I request more flying cat toys to play with. Preferably, right meow!"
There's something simply mesmerizing about watching our feline companions getting excited by a toy flapping, twirling, or soaring through the air. The intensity in their eyes, the twitch of their tail, the calculated paw swipes—only the juiciest of real birds could provoke a better reaction. But we're not here to start a conversation about letting your cat out to hunt birds. Instead, we'll cover the next best thing, an enchanting world full of spinning, rotating, and darting gadgets, which your cat would swear were real birds if they didn't know any better.
Welcome to the world of flying cat toys, a realm that combines the thrill of the hunt, the pounce of play, and the satisfaction of a good exercise session into one fluffy, feathery, fantastic package. In this article, we'll explore why your feline friend absolutely adores these gravity-defying playthings.
This guide's recommendations result from our expert team's thorough research, including user reviews, product specifications, and firsthand experiences. This rigorous process guarantees our reviews' authenticity, guiding you to make informed decisions. Our reviews remain unbiased and credible; however, please note that we may earn an affiliate commission for purchases made through our links.
Top 7 Picks for Best Flying Cat Toys in 2023
Looking for a purr-fect toy to entertain your kitty? From interactive birds to flying propellers, we've got you covered with the following reviews! Dive in and explore our top 7 picks for the best flying cat toys of 2023, guaranteed to keep your feline friend engaged and active.
* $ (budget-friendly, $0-$15), $$ (mid-range, $15-$30), and $$$ (higher-end, $30-$50+).
If you're on a mission to keep your feline friend engaged and entertained, then the Flying Propellers Cat Fetch Toy could be just what you're looking for. Designed to stimulate your cat's natural hunting instincts, this toy keeps your pet engaged and active, all while encouraging the important playtime bonding between you and your furry friend. At first glance, you might think it's a simple wind-up toy, but there's more to it than meets the eye. What sets it apart is the high-flying action that captivates cats and gets them moving like they're on the hunt.
The propellers, available in various bright colors, are designed to fly high and catch your cat's attention instantly. The toy's trigger mechanism is easy to use – wind it up, press the trigger, and watch the propeller soar. The flight aspect creates an unpredictable play pattern that mimics the flight of a real bird, keeping your cat intrigued for hours on end. This toy isn't just fun – it also serves as a form of exercise for your cat, which is vital in maintaining a healthy weight and lifestyle.
The Flying Propellers Cat Fetch Toy is also designed to be durable and safe. Made of high-quality, non-toxic plastic, the toy stands up to the test of daily play sessions, while the bite-resistant and abrasion-resistant propellers ensure a long-lasting playtime experience. While the toy is strong, it's crucial to handle it gently to ensure it doesn't break. Even if a propeller were to break, the package includes 12 replacement propellers, so the fun can continue.
Detailed features and specifications:
Type of toy: Interactive fetch toy with flying propellers
Dimensions: 9.45 x 6.69 x 1.57 inches
Material Composition: High-quality, non-toxic plastic material, bite and abrasion-resistant propellers
Interactivity Level: Requires human involvement for winding up and launching the toy
Battery Requirements: None, it's a wind-up toy
Special Features: Comes with three launchers and 12 propellers in various bright colors for high visibility and extra fun
| Pros | Cons |
| --- | --- |
| Interactive and engaging for cats | Propellers can break if not handled gently |
| High-quality, durable, and safe material | The launching direction can be unpredictable |
| Comes with multiple launchers and propellers | |
Real-Life User Reviews and Testimonials:
Many users are thrilled with the toy's ability to captivate their feline friends. One customer said, "My cat loves to chase them all over the house," while another raved, "Our cats are OBSESSED. Now I need more propellers. Buy this! Your cats will love it."
Conclusion: The Flying Propellers Cat Fetch Toy is an exciting and engaging option for feline playtime. Its high-flying action encourages exercise and offers a unique interactive experience that many cats find irresistible. Just be gentle with the propellers, and this toy could soon be your cat's favorite. It's a great choice for keeping your furry friend entertained and active!
---
Whether your feline friend is a lively kitten or a lounging senior, keeping them mentally and physically stimulated is key to their well-being. Flurff Interactive Fluttering Butterflies, an engaging and interactive toy, is designed to tap into the primal hunting instincts of cats. It's not just a toy but an alluring game of chase that keeps your cat on its toes. This toy is a standout for its ability to effectively balance exercise, entertainment, and safe playtime.
At first glance, the Flurff toy may appear as a simple contraption, but its sophisticated 360-degree rotating butterfly design is hard to ignore for cats. Its mimicry of the unpredictable flight patterns of a real butterfly can easily captivate any cat's attention, turning even the laziest of cats into engaged, playful hunters. What sets this toy apart from the rest is the glow in the dark feature. This innovative addition to the fluttering butterfly ensures your cat remains fascinated even in low light conditions, providing a unique play experience.
It's easy to set up and use, requiring just a gentle push to activate. The thoughtful design includes a broad, heavy base to maintain stability, ensuring your cat's lively pounces don't tip it over. However, the real charm of this toy lies in its capacity to offer independent playtime, which is crucial for times when you are busy or away.
Detailed features and specifications:
Type of Toy: High-tech interactive toy with a real butterfly mimic
Dimensions: Butterfly: 2.8 x 5.3 inches (L x W), Wire: approx. L 9.5 inches, Base: 8.2 x 8.2 x 3.5 inches (L x W x H)
Material Composition: Plastic
Interactivity Level: Designed for independent play
Battery Requirements: Works with 3 AA batteries (not included)
Special Features: 360-degree rotation, glow in the dark butterflies, heavy base for stability
| Pros | Cons |
| --- | --- |
| Engages natural hunting instincts | Batteries not included |
| Promotes physical activity | The wire might be potentially unsafe for unsupervised rough play |
| Suitable for independent play | |
| Extra butterfly refills included | |
| Easy to use and setup | |
Real-Life User Reviews and Testimonials:
Customers have praised the Flurff Interactive Fluttering Butterflies toy for its successful engagement of their cats. It is particularly loved for its ability to activate a cat's hunting instincts, provide a valuable source of exercise, and cater to independent playtime. However, some users have raised concerns about the safety of the wire and the butterfly's durability.
Conclusion: The Flurff Interactive Fluttering Butterflies toy is a valuable addition to your cat's playtime routine. Its interactive design and lifelike butterfly mimic offer a distinctive, immersive play experience for cats of all ages. Despite a few minor shortcomings, its unique features and user-friendly operation make it a worthy consideration for any cat owner looking to add a dash of excitement to their feline friend's day.
---
Picture this: Your feline friend is home alone, prowling around, the embodiment of restless energy with no constructive outlet. Enter the FYNIGO Self-Play Hanging Door Cat Toy, a brilliant solution to keep your kitty active and entertained, even when you're not around. This interactive flying cat toy cleverly taps into cats' natural instincts, offering a simulated mouse to pique their interest and entice them into a playful frenzy.
Designed with adjustable elastic ropes, the toy enhances your pet's agility, giving the mouse a lifelike motion. Not only does this spark the cat's interest but it also presents an exciting challenge as they strive to catch their 'prey'. Plus, the freedom to attach your cat's favorite toys to the free end of the rope means this device can seamlessly adapt to your pet's specific preferences, making playtime even more engaging.
And the best part? It's a perfect toy for cats who spend a good chunk of the day alone. The FYNIGO toy is the ideal boredom-buster, providing a healthy dose of physical activity and mental stimulation. That's why it's a great fit for cats that need an entertaining distraction, a way to dispel their abundant energy, and a workout that doesn't involve scratching up your favorite couch.
Detailed features and specifications:
Type of Toy: Hanging/dangling toy with a simulated mouse for realistic play
Dimensions: It comes with an adjustable elastic rope for flexible play
Material Composition: High-quality plush fabric for the simulated mouse; equipped with a sturdy elastic rope, clips, sticky hooks, and suction cups
Interactivity Level: Designed for self-play; it can entertain your cat even when you're not around
Battery Requirements: Not applicable, as it is not an electronic toy
Special Features: Adjustable elastic rope, multiple hanging options, interchangeable toys, and a rustling sound from the simulated mouse
| Pros | Cons |
| --- | --- |
| Interactive and engaging | Elastic cord may not withstand aggressive play from more active cats |
| Suitable for self-play, perfect for cats left alone for extended periods | Attachment hooks might not stick securely on all surfaces |
| Adjustable and versatile hanging options | |
Real-Life User Reviews and Testimonials:
Customer reviews indicate that the FYNIGO Self-Play Hanging Door Cat Toy is a big hit with feline friends, especially for those spending a lot of time alone. Several owners have praised the toy for providing endless entertainment, and have even noticed an increase in their cat's physical activity. Some buyers found the elastic cord susceptible to damage and suggested having a backup, but the majority are pleased with their purchase and attest to the product's durability and fun factor.
Conclusion: The FYNIGO Self-Play Hanging Door Cat Toy is an innovative and engaging solution for your cat's playtime. Its unique design caters to your cat's natural hunting instincts, and its flexibility in placement and use offers versatility. While there are minor concerns about the durability of the elastic cord, the toy's overall design and the joy it brings to cats makes it a worthwhile addition to your pet's collection. It may not be the 'ultimate' flying cat toy, but for keeping your cat entertained while you're away, it is arguably one of the best options available.
---
Enter the world of interactive feline fun with the Flying Eagle & Parrot Bird Cat Toys, designed to emulate real birds and entice your cat into engaging play. The toys' inventive design boasts an interesting aspect, hanging in the air, flapping their wings, creating an interactive experience that appeals to the predatory instincts of cats. This electric toy bird for cats promises an energetic play session, allowing your cat to leap, swipe, and chase, all while you sit back and observe the fun.
However, an aspect that immediately strikes a discordant note is the noise level. These aren't just toys with a subtle humming sound; they're a veritable orchestra of mechanical whirring. For many cats and their owners, this proved to be too much, with numerous users reporting their feline friends being scared away by the cacophony rather than drawn in by the toy's movements.
Equally critical are the issues surrounding the overall quality of these toys. The use of ABS plastic, while common in the toy industry, hasn't seemed to guarantee durability here. User feedback suggests that a fall to the ground might be enough to end this bird's flight for good, creating apprehension about the toy's longevity.
Detailed features and specifications:
Type of Toy: Interactive flying bird toys (eagle and parrot)
Dimensions: 16.9 x 0.5 x 9.8 inches; 1.32 Pounds
Material Composition: ABS plastic
Interactivity Level: Independent play, minor human setup required
Battery Requirements: Two AA batteries (not included)
Special Features: Bird-like movement and sound, hangable design, easy operation
| Pros | Cons |
| --- | --- |
| Unique design and movement stimulate cats | High noise level may scare some cats |
| Independent play after initial setup | Not USB rechargeable, requires AA batteries |
| | Durability and quality concerns |
| | Requires ample space to operate effectively |
Real-Life User Reviews and Testimonials:
Drawing from user reviews, the key observations include the toy's loud operation, questionable quality, and the need for substantial operating space. Users report that many cats seem frightened by the noise. Though some cats were attracted to the toy's movement, the noise often overpowered the initial interest.
Conclusion: While the Flying Eagle & Parrot Bird Cat Toys certainly come with a novel concept and design, they falter in execution. The high noise level and quality concerns mean these toys may not be suitable for all cats or owners. If you have a spacious, noise-tolerant environment and a cat that isn't easily scared, this could provide some interactive fun. But for the average cat owner, seeking a quiet, engaging, and durable toy, other options might better suit your needs.
---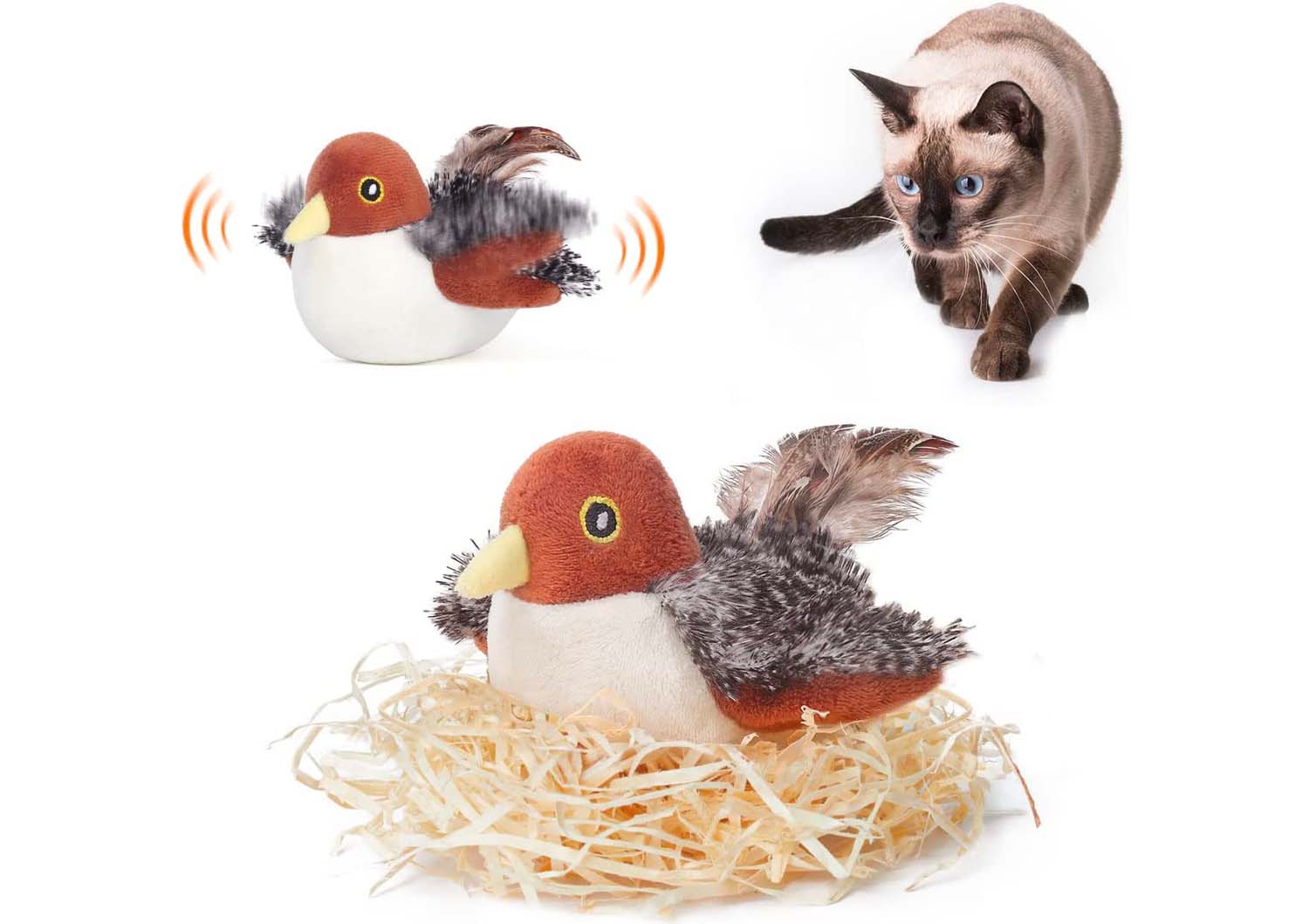 Let's dive right into the Potaroma Rechargeable Flapping Bird Sparrow. Designed to charm your feline with its realistic avian antics, this toy is a delightful addition to any cat's playtime. The automatic built-in motion sensor gets this toy sparrow flapping and fluttering as soon as your cat bats at it. The realism of the motion and chirping sounds serve as an instant attraction, bringing hours of fun. Add in the interactive component, this product encourages your cat's natural instincts, stimulating both their mental and physical faculties. It's certainly an eye-catcher, alleviating boredom and loneliness, especially when you're away.
The plush material of the toy is soft and durable, perfect for all sorts of feline fun from wrestling to batting and snuggling. The inclusion of a catnip pouch in the belly of the bird is a smart touch, amplifying your cat's excitement and interest in the toy.
Plus, its USB rechargeable nature is definitely a lifesaver. Not only does this save you from the battery replacement hassle, but the convenience of detaching the charging mechanism for cleaning makes it user-friendly. The toy also impresses with its power-saving feature, becoming dormant and quiet when not in use.
Detailed features and specifications:
Type of Toy: Real bird mimic
Dimensions: 4 x 8 x 0.7 inches, 3.84 Ounces
Material Composition: Soft durable plush
Interactivity Level: Automatic built-in motion sensor for interactive play
Battery Requirements: USB rechargeable, Lithium Ion battery included
Special Features: Lifelike chirping sounds, flapping wings, catnip pouch included, motion-activated, USB rechargeable with power-saving feature.
| Pros | Cons |
| --- | --- |
| Realistic bird movements and sounds | May not suit cats who prefer quieter toys |
| Encourages physical activity and mental stimulation | Not USB rechargeable, requires AA batteries |
| Durable plush material, safe for cats | Durability and quality concerns |
| USB rechargeable with power-saving feature | Requires ample space to operate effectively |
| Detachable chargeable mechanism for easy cleaning | |
Real-Life User Reviews and Testimonials:
Reviews by cat owners reveal this toy is a favorite among felines of different ages and personalities. The realistic bird-like movements, sounds, and soft material seem to be highlights. However, users have pointed out that the "3 Flapping Modes" might be misinterpreted due to the absence of visible toggles.
Conclusion: The Potaroma Rechargeable Flapping Bird Sparrow cat toy certainly makes its mark with its realistic bird-like movements, sounds, and overall design. With its durability and interactive elements, it provides an engaging and entertaining playtime experience for your feline. If you are looking for an intriguing and high-quality cat toy that keeps your cat engaged and active, this rechargeable bird toy can be your pick. Just remember to store it properly when not in use, as the constant chirping might be a bit much if you're seeking a quiet environment.
---
Unleash the innate hunter in your feline friend with the OurPets Play-N-Squeak Real Bird Fly-Over Wand Cat Toy. This is the toy your cat dreams of, an exciting fusion of play, mental stimulation, and physical exercise that your feline companion will love. Combining features such as an enticing bird sound and a heart-racing chase experience, this toy promises to keep your cat engaged and well-exercised.
This is not just a toy – it's a solution to the potential problems indoor cats often face, including boredom, stress, and lack of physical activity. With this toy, you'll notice an improvement in your cat's mood, an increase in their energy levels, and even an enhancement in the bond you share. It's also enriched with OurPets North-American-grown Cosmic Catnip, guaranteed to drive your furry friend wild with delight.
However, the real wonder of this toy lies in its realistic bird sound module. It creates an immersive prey-like experience for your cat, fulfilling their hunting instincts, keeping them engaged, and preventing destructive behaviors.
Detailed features and specifications:
Type of Toy: Real bird mimic
Dimensions: 2.75 x 1.5 x 21.25 inches; 1.28 ounces
Material Composition: Not specified
Interactivity Level: Requires human involvement for the wand operation
Battery Requirements: Not applicable (Sound module activated through batting)
Special Features: Realistic bird sound, Contains catnip
| Pros | Cons |
| --- | --- |
| Encourages physical activity | Some users may find the bird sound annoying |
| Provides mental stimulation | Not suitable for unsupervised play due to string |
| Relieves stress, anxiety, and boredom | |
| Durable design | |
Real-Life User Reviews and Testimonials:
Users have overwhelmingly positive feedback for this toy. Most reviews highlight its durability, the realistic bird sound, and the catnip feature that drives their cats wild. Several users have noticed their cats carrying the toy around, signifying a strong attachment. Some have pointed out the potential annoyance of the bird sound, especially during quiet hours, but it's not a universal concern.
Conclusion: The OurPets Play-N-Squeak Real Bird Fly-Over Wand Cat Toy is a remarkable blend of interactive features designed to stimulate your cat's natural instincts. If you're seeking to create an engaging playtime experience that supports both physical activity and mental stimulation for your cat, this toy certainly stands out. The potential annoyances are minimal compared to the benefits it offers. It's a must-have for cat parents committed to providing the best for their feline companions.
---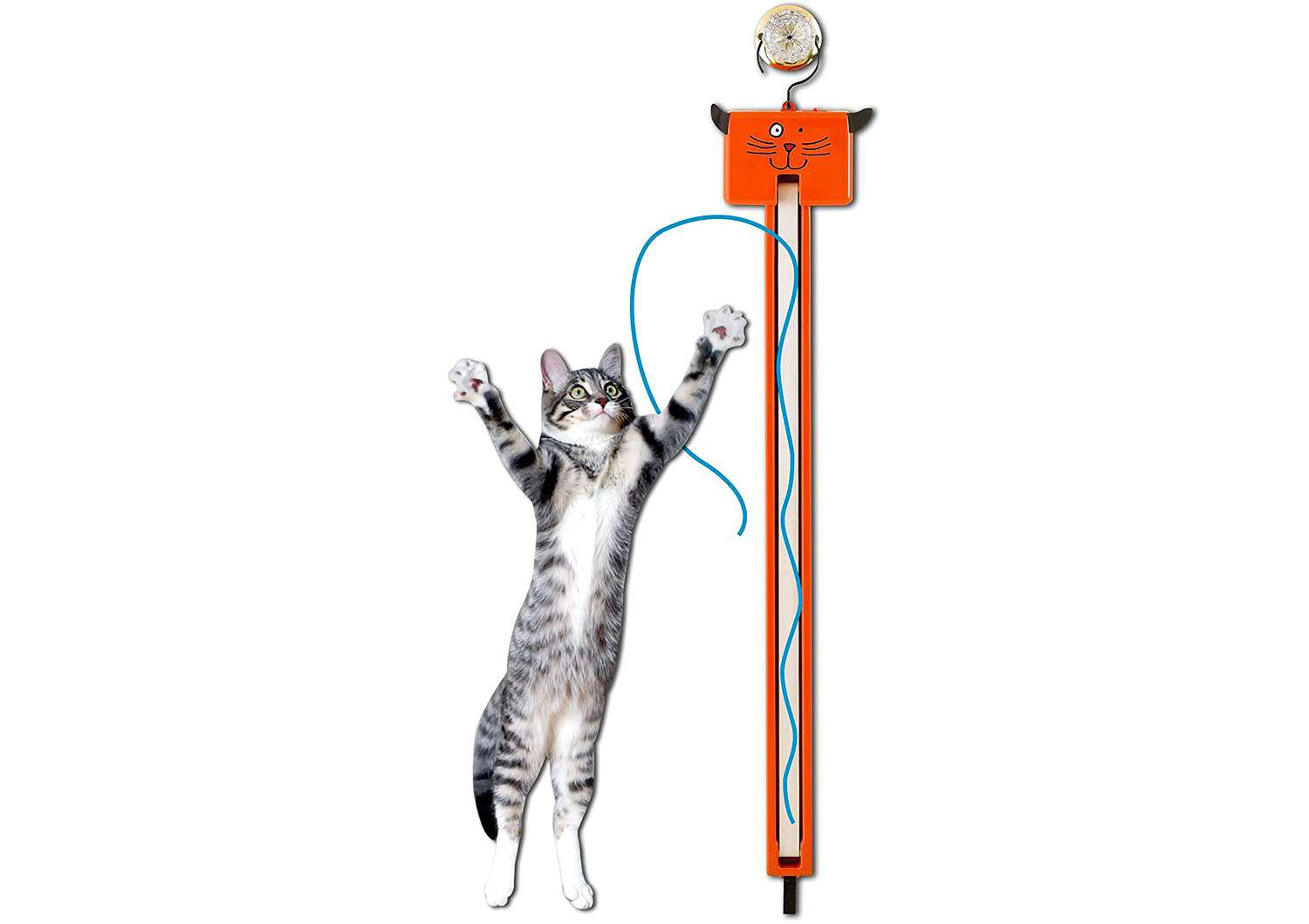 The Moody Pet Fling-AMA-String Cat Toy is truly a game-changer in the world of feline entertainment. Its playful design and high-energy function can make even the most lethargic of cats spring into action. The toy stands out as the best for effortless and continual playtime. Operating on two-speed levels, the clever mechanism flings an elastic string out in a way that seems to tap into cats' innate predatory instincts, encouraging them to pounce, bat, and chase.
The battery-operated toy has a compact and efficient design. At just under 30 inches long and weighing less than 10 ounces, it can be conveniently hooked onto any standard doorknob. The 'Fling-AMA-String' is a clever little marvel of engineering with a conveyor belt system that's been cleverly crafted to maintain your cat's interest.
Materially, it's made from a soft, flat elastic which makes it safe for kitties to play with, minimizing the risk of injury. It provides non-stop amusement for your feline companion while also stimulating their physical activity and enhancing their paw-eye coordination. It is an ideal solution for pet parents looking for an engaging toy that will keep their cats entertained during busy or off-hours.
Detailed features and specifications:
Type of Toy: High-tech interactive toy
Dimensions: 29.49 x 2 x 5.2 inches
Material Composition: Soft, flat elastic
Interactivity Level: Independent play
Battery Requirements: Operates with 3 AA batteries (not included)
Special Features: Two-speed levels, automatic rotation of elastic string, no assembly required
| Pros | Cons |
| --- | --- |
| Stimulates physical activity | The battery cover can be somewhat flimsy |
| Provides independent play | Batteries not included and may deplete quickly with frequent use |
| Convenient design for easy setup | |
| High durability of components | |
Real-Life User Reviews and Testimonials:
The Moody Pet Fling-AMA-String Cat Toy has garnered much love from cat parents around the world. Many vouch for its entertaining and stimulating qualities that keep their feline companions engaged for hours. However, some users suggest that the toy could be made more durable and perhaps designed with an unpredictable movement pattern to sustain the cats' interest longer.
Conclusion: The Moody Pet Fling-AMA-String Cat Toy is indeed an innovative addition to the array of cat toys available. Its interactive design and ability to provide independent play make it a fantastic choice for busy cat owners. While it does have some areas that could be improved, like the battery compartment and predictable movement pattern, its pros significantly outweigh the cons, making it a worthy investment for your furry friend's happiness and physical health.
---
The Joy of Flying Cat Toys
Why Cats Love Flying Toys
Let's face it; the attraction between cats and birds is a love story as old as time, but it's not one that generally ends well for the bird! Fortunately, interactive flying bird cat toys offer a much more peaceful outlet for your feline friend's avian obsessions.
Have you ever seen your cat go from a casual lounge-about to an acrobatic whirlwind the moment a bird flies by the window? It's a sight that leaves many a cat owner in stitches (and the occasional bird in a state of panic). But why this fascination with all things airborne?
Well, it boils down to instincts. Cats are natural predators, and their instincts urge them to hunt, stalk, and pounce. Toys like "Da Bird" are designed to mimic the flutter and flit of a real bird, tickling those instincts and giving your kitty a satisfying chase. The unpredictable movement of a toy flying and swooping through the air captivates your cat's attention, triggering their predatory drive to catch that elusive "prey."
Don't be fooled into thinking that this is a game only for the outdoor mousers. The petite princess who has never seen the world beyond her window sill is as much a fan of the fluttering flight as the tomcat who brings you a trophy from his nightly hunts. The joy of the hunt is deeply ingrained in their feline souls, and flying toys offer a chance to engage this love of the chase, right in the comfort of your living room.
Health Benefits of Flying Cat Toys
It's not just all fun and games, though. Beyond the thrill of the hunt, there are real, tangible health benefits associated with these flying toys.
For starters, a good chase session is an excellent form of exercise. In a world where a significant number of cats are indoor dwellers leading relatively sedentary lifestyles, obesity can be a real issue. Flying toys get your cat off the couch and into 'hunt' mode, helping them stay fit and maintain a healthy weight.
Furthermore, flying toys engage your cat's mind, providing much-needed mental stimulation. The unpredictable nature of a fluttering or soaring toy keeps your cat's brain active as they calculate the best approach to nab their 'prey.' This mental workout can prevent boredom and associated behavioral issues such as overgrooming or inappropriate scratching.
In essence, flying cat toys are the perfect combination of fun and fitness. They bring out the joyous hunter in your cat, giving them a satisfying target for their natural instincts while keeping them both physically and mentally healthy.
---
What Makes a Good Flying Cat Toy?
Choosing the perfect flying toy for your fluffy hunter can be as challenging as choosing the perfect mouse for a real-life hunt. It's not just about what flies and flutters; it's about what captures their interest and keeps it there. And of course, safety is always paramount.
Safety Considerations
When it comes to selecting the best flying cat toy, safety should be your number one priority. This is particularly true for toys that are attached to strings, a design commonly seen in bird or butterfly mimicking toys.
Firstly, ensure that the string or cord is securely attached to the toy and the wand. This minimizes the risk of your cat detaching it during their play and potentially ingesting it.
Look for toys with shorter strings. While a longer string might allow the toy to fly higher and potentially seem more enticing, it also poses a risk. Your cat could get tangled in a long string, leading to potential injuries.
Check for small parts that could be a choking hazard. Remember, in the throes of the hunt, your cat will bite, chew, and claw at their prey. If the toy has small, detachable parts, your feline friend could accidentally swallow them.
Finally, while it's tempting to let your cat play alone with their new favorite toy, always supervise playtime. This allows you to step in if any safety concerns arise. Also, put the toy away when you're not there to supervise. This not only helps to prevent any potential accidents but also keeps the toy novel and exciting.
Durability and Cat Appeal
Once you've covered the safety aspects, consider the durability of the toy. Let's be honest: cats can be a little…enthusiastic when it comes to their play. A flying toy needs to withstand the enthusiastic claws, teeth, and pounces of your feline friend.
Look for toys made of robust materials, such as high-quality plastic or durable fabrics. If the toy mimics a bird or butterfly, ensure that the wings can withstand some rough treatment. The last thing you want is for your cat to demolish their new toy within the first five minutes.
Finally, consider the cat appeal. Does the toy have features that cats find irresistible? This could include realistic bird sounds, erratic movement, or bright, eye-catching colors. Some cats may prefer a silent toy that mimics the gentle flutter of a butterfly, while others will go crazy for a noisy, chirping bird.
In essence, a good flying cat toy is one that is safe, durable, and incredibly appealing to your feline friend. It should capture their attention, ignite their hunting instincts, and keep them entertained for many play sessions to come.
---
Different Types of Flying Cat Toys
In the exciting world of flying cat toys, variety is the name of the game. From simple bird replicas to technologically advanced marvels, the choices are as diverse as the feline friends we love. Let's explore the different types of flying cat toys that are sure to make your cat's heart flutter with joy.
Real Bird Mimics
In the realm of flying cat toys, the flying bird cat toys hold a place of honor. These toys mimic the flight and appearance of real birds, making them irresistible to our feline friends. They usually come with a pole and a string, allowing you to make the bird "fly" in a way that will tantalize your cat's predatory instincts.
There are even variants that produce bird-like sounds to add to the realism. One such popular toy is the interactive flying bird cat toy that chirps and twitters, driving your kitty wild. These real bird mimics are the perfect toys to provide an engaging, interactive playtime for your feline friend.
Propeller Toys
Propelling into our list are the propeller toys. These fun toys are designed to fly or glide across the room, stimulating your cat's hunting instincts. They usually consist of a launcher and a lightweight toy, often feathered, that spins through the air when launched. Your cat will love the unpredictable flight paths and the challenge of capturing their elusive "prey."
Hanging and Dangling Toys
Not all flying toys need to take to the air to captivate your cat. Some, like the hanging and dangling toys, simulate flight by hanging from doors or the ceiling. These toys often feature a bird, butterfly, or other enticing creature attached to an elastic string. The bouncing and fluttering movement mimics a prey creature, enticing your cat to leap and swat.
These toys offer the added benefit of being a solo play option. They can keep your cat entertained even when you're busy and can't engage in interactive play. However, remember to check for any potential safety issues like entanglement, especially if your cat will be playing unsupervised.
Technologically Advanced Toys
As we move further into the 21st century, even cat toys are getting a high-tech makeover. There are now technologically advanced toys that fly or simulate flight in unique and exciting ways. These could include remote-controlled flying toys, laser toys that move in erratic, bird-like patterns, or even drone-like toys for your cat to chase.
While these toys can offer an unparalleled interactive experience, they also often come with a higher price tag. But for the tech-savvy cat owner looking to provide a truly unique play experience for their feline friend, these cutting-edge toys might be worth the investment.
From the classic to the cutting edge, flying cat toys come in a variety of forms to suit every cat and owner. Whichever type you choose, the most important thing is that it provides a safe, engaging, and entertaining play experience for your beloved feline.
---
How to Safely Use Flying Cat Toys
Whether you've selected a high-flying propeller toy or a fluttering bird mimic, flying cat toys are as much about the play technique as they are about the toy itself. Used correctly, these toys can provide hours of enjoyment for your furry friend. But used incorrectly, they can potentially lead to injuries or disappointment.
Here are some pointers on how to use different types of flying cat toys effectively and safely.
Automatic Toys
Hanging toys can be a great way for cats to play independently. But these toys should never be left unsupervised due to the risk of entanglement. Always check these toys for wear and tear, and replace the toy if the string is fraying or the attachment is loosening.
For high-tech flying toys, ensure you understand how to operate the toy before introducing it to your cat. Familiarize yourself with its controls and movement patterns. Also, remember to check the batteries regularly and replace them as needed to maintain the toy's performance.
Controlled Toys
When using flying bird cat toys or any toy attached to a wand, make sure to move the toy like a real bird or insect would move. Erratic, unpredictable movement is far more interesting to your cat than a steady, predictable pattern. Simulate the fluttering, pausing, and darting that a real bird or butterfly might do.
Don't forget to let your cat "catch" their prey from time to time. Constantly teasing your cat without ever allowing a catch can lead to frustration. When they do catch the toy, offer plenty of praise to make them feel like the skilled hunter they are!
For propeller toys, ensure there's plenty of open space for the toy to glide without hitting any fragile objects or causing injuries.
Remember, play should be fun but also safe. Never encourage your cat to leap too high or too far for a toy, as this could lead to injury. And always keep an eye on your cat during play. If they seem to be tiring or losing interest, it might be time to wrap up the game and give them a well-deserved rest.
Safe and effective play with flying cat toys not only strengthens the bond between you and your cat but also provides vital mental and physical stimulation for your furry friend. So, happy flying, and may your cat always land on their feet!
Wrapping It Up
Well, we've journeyed through the high-flying, swooping, diving, and dashing world of flying toys for cats. Whether your kitty is a fan of the tantalizingly elusive flying bird cat toys, the whirring fascination of propeller toys, or the high-tech thrills of automatic toys, there's a flying toy out there for every cat.
We've laughed, we've learned, and perhaps even meowed a bit along the way. We've explored why cats love these sky-high diversions, the crucial factors that make a good flying cat toy, and how to use them in the safest, most enjoyable manner possible.
Remember, playtime with your feline friend isn't just about keeping them entertained – it's about promoting their physical health, mental well-being, and fostering that special bond between you. So don't shy away from the fun and novelty these toys offer.
Now it's your turn to join the conversation. We're always keen to hear about the antics and adventures of your flying-toy-loving felines. Did your cat love the Da Bird toy, or did the flying parrot cat toy hit a home run? What was your experience with using these toys, and do you have any special tips or hilarious stories to share? The furrier and funnier, the better!
So, take to the comments, fellow cat lovers, and share your thoughts and experiences. As they say in the world of flying cat toys, the sky's the limit! If you're interested in exploring more fun options for your furry friend, don't miss our review of the best interactive cat toys. And of course, don't forget to check out more furr-tastic content on our blog.
That's all for now! Until our next cat-adventure, keep those toys flying and those kitties pouncing.